A Content Delivery Network (CDN) is a network of computers which caches and delivers the web contents over different geographical locations. In cdn not only one server used to handle the world's traffic but different cache servers are also used to serve the content. Such cache servers located all around the world and every cache server handles its surrounding country's traffic. Use of cdn results into a shorter latency of connection between the origin server and visitor's computer.
Example: If you are using a content delivery network for your website; where you main server is in India and your cdn services allows you cache servers at Singapore, China, Amsterdam and London. In this case if an American user is trying to load your website so he would be connected to London server which has a lowest latency and the contents would be transferred from London. If anyone tries to reach your site from Australia so the Singapore server will serve the contents for him.
See below map to understand how the cdn works actually.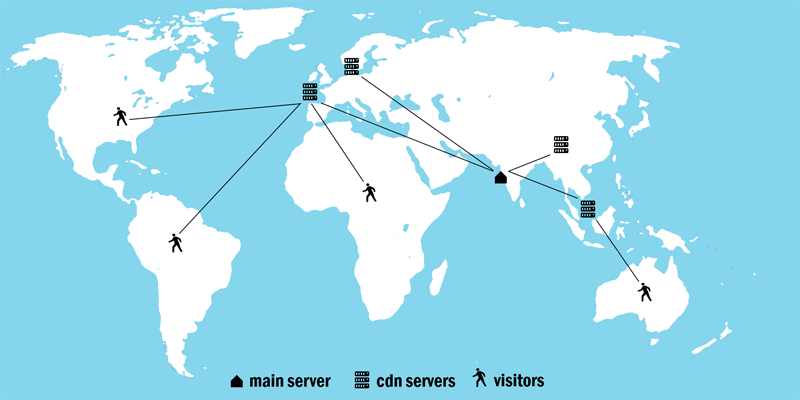 Content delivery network servers are always caches the main server for the latest updates and if any changes made on the main server then all the cdn servers will cache a new copy of the content. That means a whole copy of the main server is available with cdn servers; so if suddenly any country started bombarding on your website for any famous content then they will not hit your main server but hit the cdn server of that location.
Let's see what could be the advantages and disadvantages of using cdn services.
Advantages of CDN
You can handle more numbers of traffic as it spreads the burden of main server to all cdn servers.
Visitors will able to access your site's content faster due to lowest latency.
There are seo benefits too as site becomes faster due to nearest available servers.
You may enjoy 100% uptime because most of cdn services works on collaboration basis; that means if one server failed to deliver your content, another server will work for that and the chain continues.
Disadvantages of CDN
Cache technology does not works on live basis but on time basis. If any content gets updated it will take some time to update the content at all cdn servers.
For the current time using content delivery network would be additional cost. There are also free cdn services too but if you an enterprise so cost is your friend.
This is all about content delivery network. Big companies like Facebook, Google, Twitter and Yahoo uses this technology on mass scale to serve the contents blazing fast.