While desktop computers have much faster memory, processors, and higher storage capacities and brand new features associated with laptops are quite more, that made most students and business professionals turn towards purchasing the best laptops. In fact, they provide the user with easier access, greater efficiency and unrivaled echelon of portability.
The biggest advantage of owning a laptop is its portability. The small size of the modern laptops allows users to carry it and work from anywhere. So, they can get their job done from any corner of the world. The laptop consumes considerably less power when compared to a desktop computer and even can be operated on the battery during a power outage. In addition, there are several private and public wireless networks that facilitate easy access to users.
Below we have a list of top 10 best laptop brands which are ranked based on their brand name, quality and after sales services. You can say these are the most reliable laptop brands for college students, for business, for gaming and ultimately for home users too.
List of Top 10 Best Laptop Brands for 2017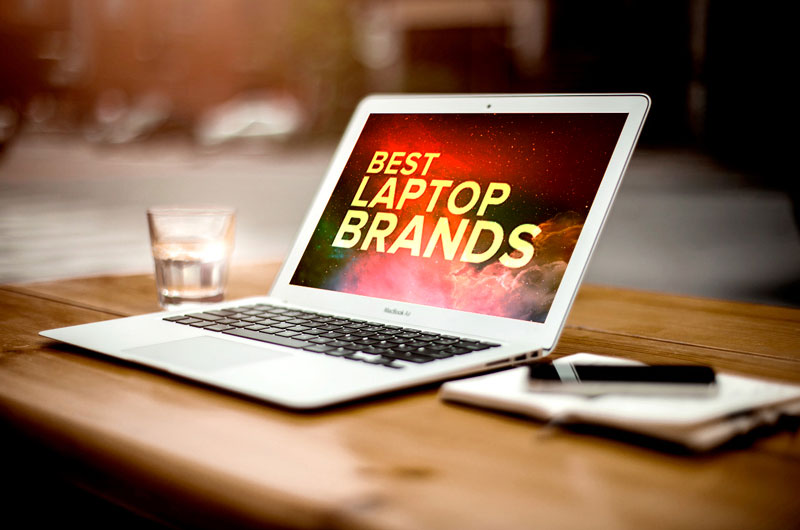 Surely, these laptops are not for everyone as some of them carry a substantial price tag.
But, one thing can be said for sure, these laptop brands are good enough to make it to our list of the top 10 best laptop brands of 2017.
Brand
Model
CPU
RAM
Storage
Apple
MacBook Air 13 Inch
(Editor's Choice)
Core i5
8 GB
128 GB SSD
Price
Asus
Zenbook UX305
(Editor's Choice)
Core i5
8 GB
256 GB SSD
Price
Dell
XPS 13
(Editor's Choice)
Core i5
8 GB
256 GB SSD
Price
HP
Spectre X360
Core i7
16 GB
256 GB SSD
Price
Lenovo
ThinkPad T450s
(Business Laptop)
Core i7
8 GB
256 GB SSD
Price
Acer
Aspire S 13 Touch
Core i7
8 GB
256 GB SSD
Price
Microsoft
Surface Book
Core i5
8 GB
128 GB SSD
Price
Samsung
Notebook 7
Core i5
8 GB
1 TB HDD
Price
Toshiba
Radius
Quad Core
4 GB
500 GB HDD
Price
MSI
MSI GL62 6QF-628
(Gaming Laptop)
Core i5
8 GB
1 TB HDD
Price
#01. Apple – Design Hero and Class Apart
When it comes to brands that know how to innovate and change the game, Apple stands foremost among them all. They have essentially revolutionized many an industry with their products. Apple laptops are renowned for their quality and come with ease of using features. The overall design tends to be excellent and elegant, which is the main feature of Apple machines. If you are not on a budget, then it is a good choice.
Features 5th Gen Intel Core i5 Processors with Intel HD Graphics 6000 are up to it and all-day battery life, yet it's incredibly thin and light. From editing photos to browsing the web, everything happens ultrafast. Yet is encased in an incredibly thin 0.68-inch unibody design that weighs only 2.96 pounds.
#02. Asus – Fantastic All Rounder
ASUS is well known for their high-quality components and is the topmost brand when it comes to affordable laptops. The laptops from ASUS are available at different prices ranging from $300 to $2399. The high-end models are aimed at users who have a big budget for getting a laptop. The designs are solid and pretty straightforward.
Super thin aluminum body, bright matte screen, quiet fanless design, extra long battery life. Weighing a mere 1.3kg and just 1.6cm thin, it's never a burden, always a delight. But it's not just an amazingly beautiful, lightweight laptop, it's seriously powerful too.
#03. Dell – Unbelievable Performance/Services
If you are true Windows lover and want a perfect brand of a laptop which has unbelievable performance and after-sale services then Dell comes first. Dell is a renowned brand that has been designing laptops for masses in different price ranges. If you are looking for a laptop that worth the money you spend, you can go with Dell.
Good battery life, small footprint, comfortable keyboard, and attractive design.
#04. Hewlett-Packard (HP) – Simply Productive
HP is one of the most recognized and valuable brands when it comes to laptops. It offers laptops with a balanced combination of functionality and style. Its products are higher ranged among the laptop users. Their products are aimed towards a wide range of consumers.
Long battery life, stylish design, sturdy hinges, and bright display. It feels little uncomfortable to hold as a tablet, bottom runs a bit warm on heavy use.
#05. Lenovo – For the Professionals
The designs of Lenovo laptops tend to be gray or dark and nondescript. They lack in style but come with strong build quality. They are renowned for quality components and hardware. The laptops are reliable and last for a longer span of time.
Good keyboard, nice battery life with an extended battery, durable design, better audio. However, outdoor screen brightness is average.
#06. Acer – Known for Portability
Acer is ranked as the seventh leading laptop brand and is highly recognized among the public. It is common to see Acer devices at internet café. Whether you want utility, ultimate portability or simplicity, you can go with Acer.
Sleek design, snappy keyboard, strong security features, better performance and battery life.
#07. Microsoft – Reputation in Your Hand
Microsoft is a new contender on this list and with their latest Surface Book and Surface Pro lines, they have already gained lots of reputations from the users. Most of the models are sleek on design and facilitate touch screens to support Windows 10. Their laptops are dependable and functions as advertised. It is a good idea to invest on Microsoft laptops.
Excellent ultraportable laptop with more than just the latest Intel processors and Surface Book is built to run all the professional-grade software you need for engineering, design, and everything in-between with all-day battery power.
#08. Samsung – For All Budget
Samsung has garnered a lot of reputations in the last few years for their products. It has been manufacturing laptops in different price ranges ranging from $249 to $1399. Whether you are on tight budget or have enough money, you can get the one that gratifies your needs.
Gorgeous and yet elegant design, bright Quad-HD touch screen with better viewing angles, powerful speakers, and solid backlit keyboard. A bit heavier than other ultraportables and some bloatware are pre-installed.
#09. Toshiba – Redefined Engineering
Toshiba is one of the most popular laptop brands that manufacture and provide laptops in different price ranges. Their products ate more plain and come with boxy designs that seem to be unstylish. However, the hardware components are of very high quality and the bundled components will never get in your way.
Strong performance for price; dedicated Cortana button, above-average battery life. Front corners feel bit sharp; undersized keys but usable.
#10. MSI – Makes Gaming a Serious Business
MSI is well known for dedicated graphic cards and high-quality motherboards but now they have entered into Laptop manufacturing. While it is not the right choice for people on a tight budget but their products have high-quality components. Their laptops are available around $1,000-$1,500 in price and are pretty reliable.
High-performance laptop with elegant yet imposing design, comfortable keyboard, bright and vibrant display. All we can say that it is one perfect value for money gaming laptop. More than average battery life (battery isn't ideal for gaming unless plugged in).
This is the list of best laptop brands in the market which can be considered as the best buy.
Tips to Choose a Best Laptop
If you are confused with the dozen of options, break your requirements in three parts as the brand name – hardware stuff – system software or operating system.
Brand Name
Not all brands are same, we already saw the top laptop brands above and there is no doubt that all of they are designed for the specific need. So pick one which is easily available at your location, which has nearest service center (for future repairs and maintenance), and finally budget you would like to spend.
Hardware Stuff
On mobile motherboard which is used in laptops, you may find numbers of the technical term. Like Processors, RAM, Graphics, Storage and Touch Screen. Here you need to make a plan what you need. Since these terms are always confusing we are briefing these in short.
Processors: Intel has Pentium, i3, i5 and i7 whereas AMD has A, FX, and E-Series. They are for beginners, intermediate, more intermediate, gamers or professionals simultaneously.
RAM (Memory): Some subsystem comes with 2GB of RAM, some budget laptop comes with 4GB or 8GB of RAM and if you spend little more you may find some 16 GB models as well which are beneficial for Gaming and CAD programs.
Graphics: You will find this option more confusing since there are tons of models, so indirectly you can prefer top contenders which are AMD and Nvidia. You just need to pick one with better graphics memory. 2GB is essential of graphic intensive works.
Storage: Here you will either speed or space or both at cost. If you prefer speed go with SSD Storage they are blazing fast to get things done or get an HDD Storage if you want to store huge files with a cheaper cost or get both which you will find in some laptops to run programs in SSD and store files in HDD. Since SSDs are not cheaper like HDD in terms of space you need to set your mind what you need here.
Touch Screen: As technology is getting advanced there are many systems you will find with a touch screen or 2-in-1 which have laptop mode as well as tablet mode. From a business point of view this option isn't useful but if you are a traveler then you can think of using such features.
System Software or OS
From the software point of view you won't find many hurdles as there are very few things to choose.
MacOS: A Unix based system which is designed by Apple called MacOS. It is known to be one of the robust systems for graphic users and researchers as there is very limited issue with MacOS regarding hardware issues since it is running on Apple's own designed hardware.
Windows 10: Windows is always known as one of the most flexible operating systems which are used in business as well as consumer world. Since Windows 10 is designed for all users; it is easy to operate and you will find better software support on this.
Linux: If you don't want to spend system software you will find Linux as a free source. In Linux, you will find numbers of Distributions which are free to download and use, like, Ubuntu, Ubuntu Mate, Linux Mint and etc. If you are the newbie or just want the Internet and basic office programs then Linux is cheapest and most reliable option.
ChromeOS: Based on Linux, Google has its own OS called ChromeOS which works on the Internet. If you are a fan of Chome browser and 99% of your task is based on browser then ChromeOS is the best software for you. Even there are many budget-friendly laptops which packed with ChromeOS.
If you are looking for a laptop buying guide then follow these articles, which will sure help you to pick the right laptop for you or for someone you are buying for.
I am sure that this article about top 10 best laptop brands of 2017 with buying guide will be helpful to select the best brand of laptops for yourself depending upon your purpose, use, and budget.
If you enjoyed this post, please share it on Facebook and Twitter, Stumble it on StumbleUpon or Pin it to Pinterest! Share your experience or feedback, and let us know which is your favorite laptop brand from the above-mentioned list. Thank you.
Best Laptop Brands of 2017
Apple

Asus

Dell

HP (Hewlett-Packard)

Lenovo

Acer

Microsoft

Samsung

Toshiba

MSI (Micro-Star International)
Technical Expert's Review
What laptop should I buy? It's a question with tons of possible answers. But, a good place to start is to decide which brand deserves to be in your hand. Thus, we have thoroughly tested all the laptop manufacturers, taking a hard look at laptop's quality, value and selection, and other criteria too that should be checked.