I just moved from Intel i7 7700 to AMD Ryzen 7 3800X, and after all the assembly, installation, and setups I ran the benchmarking apps to see what Ryzen 7 3800X can do.

At first look, the CPU's temperatures were not normal to me, I never saw anything above 72 degrees Celsius with Intel i7 7700. While R7 3800X was jumping around 46-60-76 degrees Celsius, but considering a higher TDP CPU it is a normal thing.
While I'm writing this article my CPU temperature is about 46. Just using the chrome browser (with 2 extra tabs), paint (editing below image), and hardware monitor app.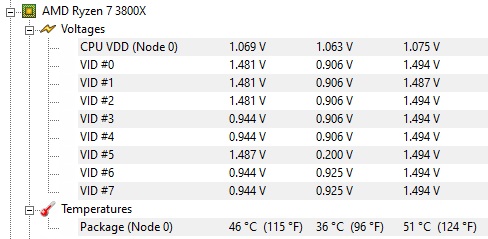 Here I'm using default Wraith PRISM cooler which is supplied with the CPU and my room temperature is stable 28-degree Celcius as I can see in my wall clock.
Related: Do AMD Products Run Hotter Than Intel?
To confirm whether this is normal or not, I confirmed with a few other builds and found that it is nearly the same there. After a long email conversation with AMD, I came to know that higher TDP CPU generates more heat than the normal ones and this CPU's TDP is 105 Watts which is about double than R7 3700X (65 Watts). So slightly more heat.
Obviously, those extra heat offers me more performance to handle the heavy workloads.
Note that here the watt unit used for temperature and not for electricity consumption.