Food app development company services.
App development is not only good branding. It is also a great tool for making communication between the company and the customer; on top of it enables a much more enjoyable experience for both. Apps extend an expanse to portable and mobile gadgets' ability to provide seamless expansion of the scope with which companies can serve consumers online.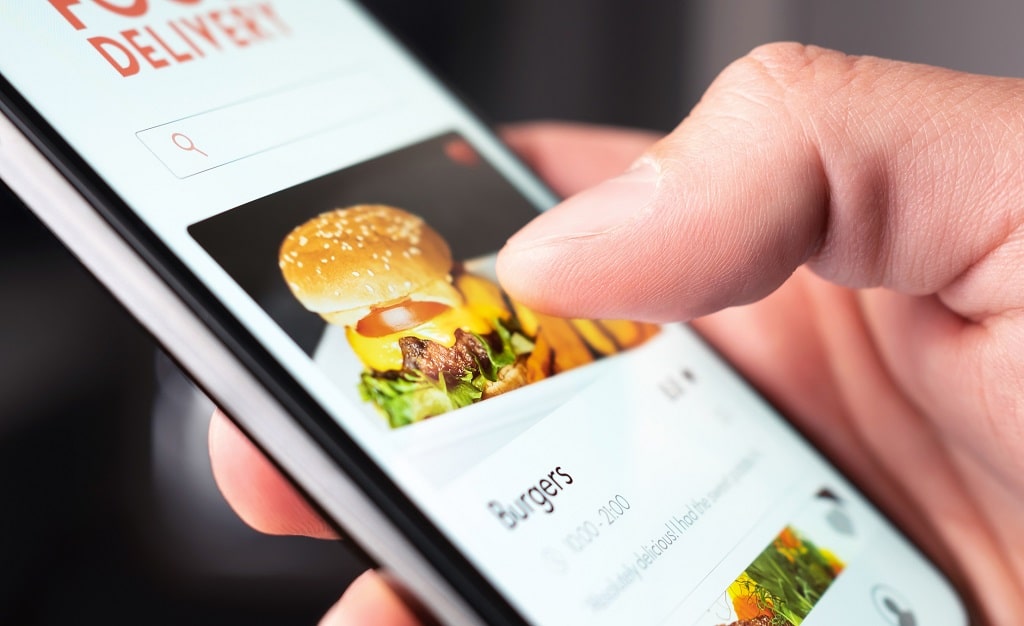 Moreover, it gives a unique identity, which reflects the company's branding message and helps to establish an emotional connection with customers.
Types of food delivery apps.
Let's look at different types of food delivery apps:
Aggregators. These are platforms for selling and delivering food from a large number of restaurants at once. Flipping through the catalog of restaurants, many people will learn about your establishment every day. They also provide the restaurant with delivery services, which removes the cost of organizing delivery from the restaurant on its own.
Logistics-focused. Such companies offer food delivery for the restaurants they cooperate with. It eliminates the need for cafés to employ their own couriers. Unlike aggregators, these services charge set fees not just to restaurants that have agreed to partner with them but also to customers.
Full-Cycle. The grocery delivery apps like these include both logistical aspects and the possibilities of restaurant management. They bring benefits such as control of all activities and the client experience, so you always know what cuisine is supplied and when it is served and don't have to share your gains with others.
Benefits of good-provided delivery app development service.
Food delivery apps give customers the ability to learn more about a restaurant, create an account, order and pay for food, and receive rewards for their loyalty. It enables companies to meet the demand of their customers in comfort. It is a great tool for communication between company and customer and much more enjoyable for both. Apps extend an expanse to portable and mobile gadgets' ability to provide seamless expansion of the scope with which restaurants can cater to consumers online.
The reasons why restaurants turn to app development:
Satisfied customers. With a mobile app, the ordering process is way easier. Customers can choose and pay for their meal ahead of time and pick it up without waiting at the restaurant. As a result, shorter lines, faster service, and improved efficiency.
Meal customizations. Your app could allow your customers to customize food and beverages according to their whims. E.g; they can be given a choice of toppings and cheese while they order a pizza; a choice of ingredients in their salads; the level of sweetness/sourness in the beverages.
Higher spent. Apps involve special loyalty programs for customers. They can get a discount on their food, or perhaps a free item, after spending a certain amount of money. It makes a customer feel appreciated for returning to a restaurant. They will prioritize that restaurant above its competitors, which leads to higher spending.
Popularity. Recent novelty in food delivery mobile app development allows customers to share their experience with restaurants via social media. It optimizes customer engagement and attracts new ones.
On-demand food delivery app development company and trendy features it provides.
Simple, fast, and affordable. Food delivery app development has made a big step recently. From optimization visual to customization of services. Their values improved as well. Here are the latest developments you can use for your own food delivery app:
User-generated content. Is there any ad that will be more effective than customer reviews? Clearly, developers of food delivery apps made sure their products would work for themselves.
There are different categories like "best-selling", "frequently ordered" etc.
So users can see others' preferences and share their own order experience via social media accounts. A smart way to increase the reach of an app.
Keeping in touch. The next update represents a triad of communication: customer, agent, and company. In the latest versions, users can get in-app chat support to communicate with delivery personnel or restaurant in case of any problem with orders. Customers can contact the delivery guy directly via the visual features of the app. For instance, send a photo or video of the location. Even record voice messages to help him get to the right place.
Regular customer advantages. One more feature is the standard of building customer loyalty. It is about offers, discounts, and free delivery.
For example, food delivery apps provide promo codes for "premium" customers. Developers also took care of the different tastes of users and now suggest a group ordering feature, which permits adding food from multiple restaurants to a cart and ordering in a single go. It helps split the food bill using different payment modes as well. Ultimately offering an easy feature to customers.