College students have more choices when it comes to selecting a school than ever before. Some students may choose to skip campus altogether, for example, and instead utilize online learning. Other students may pick a particular school because it has nicer dorms or an impressive library. Whatever the situation, it's important for universities to closely consider how they can add value to students. In the long run, this could make them more attractive destinations.
One way to stand out is to partner with a college mobile app developer to develop world-class apps that enrich student experiences.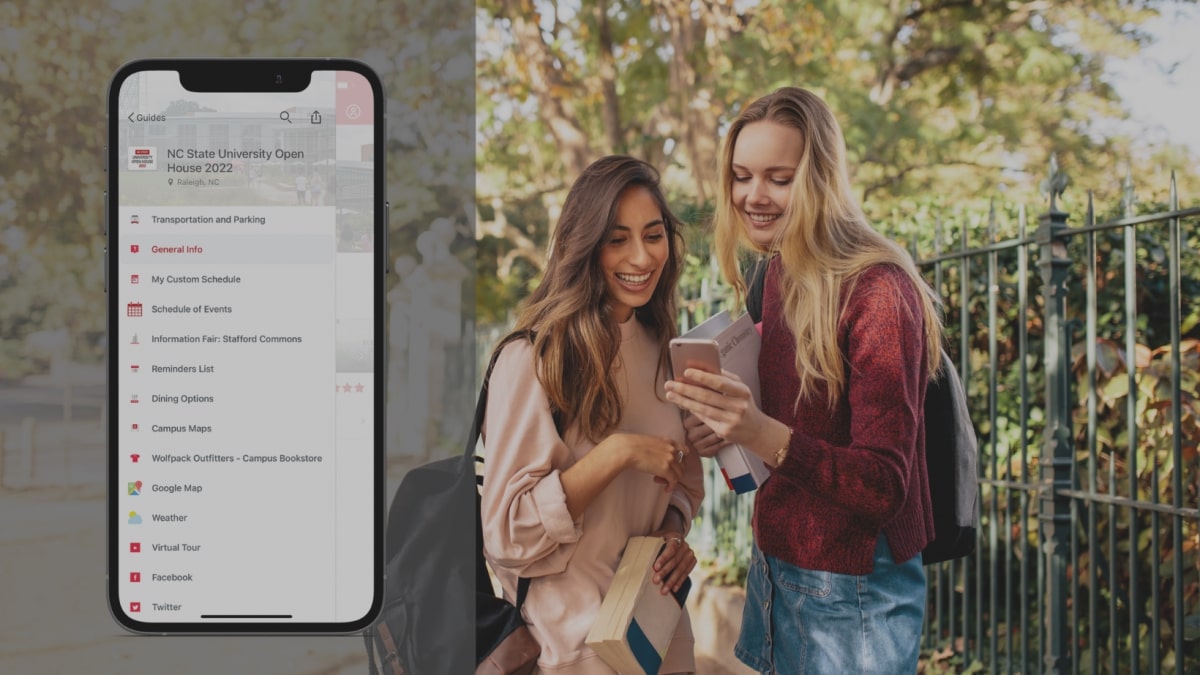 As of 2021, roughly 85 percent of Americans had a smartphone. You can bet adoption rates among college students are even higher and on some campuses it may even approach 100 percent. While smartphones can be a distraction in the classroom, they also offer a useful way to engage students, add value, and keep the whole community informed.
Make sure information is centralized and easy to access.
Universities are immensely complex, and it can be difficult for students, staff, and other stakeholders to access information. A student might have questions about campus rules, or a professor may need info about healthcare benefits, for example. It's smart to collect and centralize as much information as possible.
Adjusting to campus life can be especially stressful for new students. Unfortunately, some students will end up overwhelmed, and as a result, they may drop out of school, skip class, or not show up next semester. By keeping students in the loop and making information easy to access, it may be possible to address these issues.
Allow for easier course management.
Class can be a lot of work for both those teaching and those learning. Managing assignments, updating syllabuses, and various other things can feel like herding cats. With the right apps, college administrations may be able to reduce friction within the classroom for both teachers and students.
In the long run, any improvements in the classroom may improve educational outcomes. It could also reduce burdens on professors and teachers. Add it all up, and the right college apps might make it easier to retain both professors and students.
Encourage participation in on-campus events.
Building up school spirit can help students remain keyed into the university. If students enjoy their experience at a particular college, they will also be more likely to share that positive experience with friends and family. This could help with enrollment.
Many universities already recognize the above and thus hold on-campus events to make school more fun and engaging. That said, getting the word out about events can be difficult. Many students who might want to attend could either forget or might simply not know about it at all.
Be prepared for emergency situations.
Hopefully, your college will never have to issue a warning for any reason. However, in some situations, it may be necessary to send out emergency communications. For example, an approaching storm may shut down classes for the day or an accident could have knocked out electrical systems in a building.
In such situations, the right apps could make it easier to get in touch with students and keep them informed. In the long run, this could reduce risks, which will improve peace of mind for students, employees, parents, guests, and other stakeholders.
Finding the right app developer.
The above list of ideas isn't exhaustive and administrators at colleges may come up with awesome app ideas that no one has even thought of. If you're looking to develop an app for your college, it's crucial to find an app developer who can deliver a great product.
When looking for app developers, it's wise to find organizations with experience in education and university settings. It's also wise to find developers who prioritize user experience and technically-sound coding. Quite likely, you'll need to develop an app for both Android and iOS devices because it's unlikely that all your students are using one operating system.
Developing an app will take some hard work, but by partnering with the right app developers for universities, you can make the experience positive and the outcomes fantastic. As the start of term approaches, it's wise to get to work ASAP, so that students and other stakeholders can enjoy the benefits of your apps sooner rather than later.