Undeniably, it is fact that we all rely on electricity for most of our day-to-day activities. Therefore, having a sufficient power backup supply for our homes is a critically important aspect that cannot be overlooked. In a power backup supply system, an inverter matters a lot, however, the battery is the real workhorse.
The type of output you get from an inverter battery can make all the difference in the world, so choosing the right battery for an inverter is crucial. There are several different types of inverter batteries on the market and choosing the right one for your inverter can be difficult.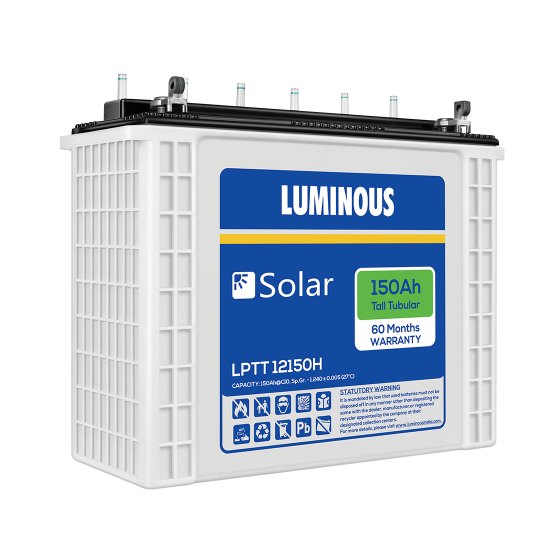 Let's have a look at the best batteries for inverters available in the market:
Flat plate batteries: These are the most popular inverter batteries, with a straightforward design. These batteries are recommended for infrequent usage and not for locations where power outages are common. While these batteries are inexpensive, they require regular maintenance to function correctly.
Tubular batteries: Tubular batteries are technologically advanced and are highly recommended for places where there are frequent power outages. While these best inverter batteries are more costly than flat plate batteries, they make up for them with a longer life cycle, less maintenance, and greater reliability.
There are two types of tubular batteries:
Short Tubular Batteries
Tall Tubular Batteries
GEL batteries: A GEL battery is a valve-regulated lead-acid battery containing a predetermined amount of electrolyte, silica fumes, and sulphuric acid. The immobile, gel-like mass that gives these batteries their name is the product of this chemical reaction.
Let's help you find the best battery for the inverter, there are a few things that you need to keep in mind.
1. Backup period.
When looking for the best battery for an inverter, it's also essential to consider the backup time. You must purchase a battery with sufficient capacity to provide backup during a power outage.
An inverter battery's backup time is measured in ampere-hours (Ah).
2. Requirements for the load.
When using an inverter and battery, your appliances' total power is referred to as the load requirement. The load specifications vary from one household to the next, so you'll need to figure out yours.
Let's calculate the load requirements of a modern home. Assume you want to run four ceiling fans, four-tube lights, three LEDs, one laptop, and one computer.
| Appliances | Units | Per Unit Load | Total Unit Load |
| --- | --- | --- | --- |
| Ceiling fan | 4 | 75 watts | 300 watts |
| Tube lights | 4 | 40 watts | 160 watts |
| LEDs | 3 | 5 watts | 15 watts |
| Laptop | 1 | 60 watts | 60 watts |
| Computer | 1 | 100 watts | 100 watts |
| | | Total Load | 635 watts |
So, as we look at the above table – 635 watts is the total load. Hence the best battery for the inverter in this scenario would be based on the given load requirements.
3. After-sales service.
You don't want to purchase the best battery for an inverter from a company that provides little or poor after-sales service. Batteries and inverters are machines that experts should handle, so it's safer to delegate maintenance to them. Look for brands that have a significant market presence and an extensive service network for an easy fix.
It's also crucial to think about the warranties on the product.
Way forward.
Choosing the best battery for an inverter is just as critical as picking a suitable inverter. In other words, since the battery is the heart of the UPS device, using a non-branded low-cost battery with a high-end branded inverter could jeopardize the branded inverter's life. Therefore, it is imperative to invest in a reliable brand. Reputed brands like Luminous serve more than 11 million households and help their customers choose the best battery for an inverter.
Enabling you to expertly deal with regular power outages, Luminous inverter batteries for home use ensure an effective power backup supply to keep you going. The Luminous inverter battery for home use is an excellent option for running electric devices and home appliances during lengthy power outages. They have the largest selection of the best inverter batteries for home use.