If you have decided to shop for a new laptop for your child who just got admission in his college, you need to find the one at the most competitive price.
Price is the most primary concern for most people while shopping. The advancement of technology at a faster pace for the past few decades and retailers offering special discounts and offers on laptops enticed business professionals and students to buy laptops.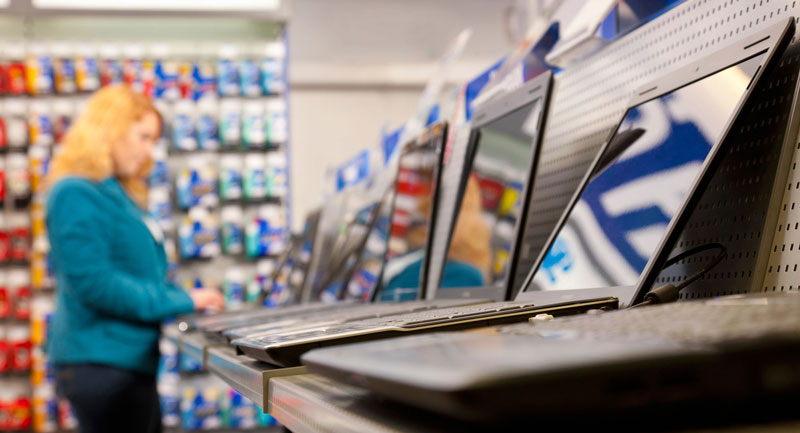 So, it has become possible even for the average consumers on a tight budget to purchase the device from the best laptop brand at affordable prices. However, it is not meant that just because of purchasing the most affordable laptop you have to sacrifice the performance or any features of the laptop.
Choose a Portable Size
While 15inch laptops are also cheaper, 11 to 14-inch models are suitable for college students as they usually weigh less than 5 pounds, which make it easier for them during transport. If you are shopping the laptop for school students, then 15 inch laptops will be fine as they will be mostly using it at home. In order to enjoy maximum portability, it is always better to go with the one that weighs less than 4 pounds. Even an 11-inch laptop will often do magic and is specifically helpful for small children with cute little hands. On the other hand, 11 inches laptops can be too small for older students to avail a great viewing and typing experience. So, it is suggested to choose the laptop as their age and needs.
Go with Premium Design
The most important feature that should be considered while purchasing the best laptop for students is its look and feel. The reason is that most students want others to see them carrying something sleek and elegant and not the one that looks clunky. In the mean time, the laptop should be built in such a way that it lasts long. If it is possible, opt for a laptop with design that at least includes an aluminum lid or carbon fiber lid that protects its display and resists wear and tear for a longer time.
Look at the Specifications
Regardless of what you are aware of, the CPU can make a huge difference. The fourth generation core processors uses considerably less power when compared to others and thereby allowing you to enjoy more battery life on the system of the similar size. If you want to save money, you can even opt for the third generation core processor that may do the magic. The laptops with AMD processors are available at affordable price ranges with A series that provide mainstream level performance whereas E series appears prominently in low end systems.
When it comes to memory, 4 GB is adequate but if you are able to afford for something that come with 6 or 8 GB of RAM, then go for it. The storage drive has a lot of impacts on the performance of a laptop. While lower in capacity and more expensive than hard drives, the Solid State Drives can improve the performance of the system dramatically.
If you want to purchase a laptop with a conventional hard drive, you can consider going with the one that operates at the faster 7,200 rpm speed and minimum of 500 GB. To further improve the performance of the system, you can consider opting for a 16 or 24GB flash cache.
Consider Laptop with Touch Screen
Windows 8 comes with an interface that can work much better with touch screen. So, you can consider purchasing the laptop sporting touch screen. Several new budget laptops come with touch screen facility that may cost below $500. You should not ignore touch screen which is more important. You need to make sure that the navigating is smooth and responsive rather than jerky. If you have not purchased the laptop with touch screen, make sure that the keys are not stiff and are easy to press.
Battery Life
It is not quite possible for students to plug in wherever they go. So, you should get them a laptop which can last for 5 to 6 hours on a charge. While it can be too complicated to find a device with such a long battery life, reading the reviews and getting suggestions from pro can help you to find the one as per your needs. The student will be typing a lot from reporting to facebook updates to completing a paper. Hence you must try it out to ensure that the battery life of the laptop lasts for a longer span of time.
Go with Windows and Macs
Performing more computing online has certainly made people giving less importance to choosing an OS, which make a huge difference in the overall user experience. While the features of Windows and Mac OS different significantly, the users prefer each one of them for various reasons. Windows are tend to be affordable and facilitate a wide assortment of programs whereas Macs are better designed device and more secure.
Consider Business Laptops
If you are looking for the best laptop for college student which is not a business major, he or she can enjoy a great benefit from using a laptop confined for business professionals. The best laptop brands like HP, Dell and Lenovo offers the best business laptops with more durable designs, better keyboard and a throng of customization options for the lowest price as the consumer oriented siblings. You can purchase business laptops online as you can find something with extended battery, your preference of storage drives and a higher resolution screen. They also provide you with a better experience when compared to equally priced consumer contributions.
Track the Reputation of the Brand
While the above given tips help you know how to choose a laptop, it is extremely essential to track the reputation of the manufacturer before making any sort of commitment. If you have chosen a wrong laptop for the student, the results could be shattering. You must be looking for the one which us as reliable as possible. Purchasing a laptop from the manufacturer that has a good track record on customer support is more beneficial. This is one key area where popular manufacturers reign supreme. In order to make the consumers stay with them, today almost all manufacturers are conscious about providing quick solutions for the laptop issues as completely and quickly as possible. However, you must know to differentiate the best brand from the crowds.
Once you have decided a best laptop brand of which specifications fit with your requirements, then you can go with your selected best laptop brand easily.