eCommerce is still very much trending, no two-ways about it. I am sure you will come across several posts that speak about what is eCommerce realm, why it is beneficial or why more and more businesses irrespective of their size and industry vertical are found delving in this particular space.
Have you ever thought of the fact that the ratio of your online success or failure could be determined within 5 seconds of a visitor landing on your business website? Maybe that's the reason why it has become so important to build a website. And not just any website, a platform where users could easily navigate and don't switch to other websites.
However, all of a sudden I realized that there are very few posts about how much it really costs to develop an eCommerce website.
Fret not, we have the solution right here! By the end of the post you will definitely understand how much and what all it takes to develop an eCommerce website.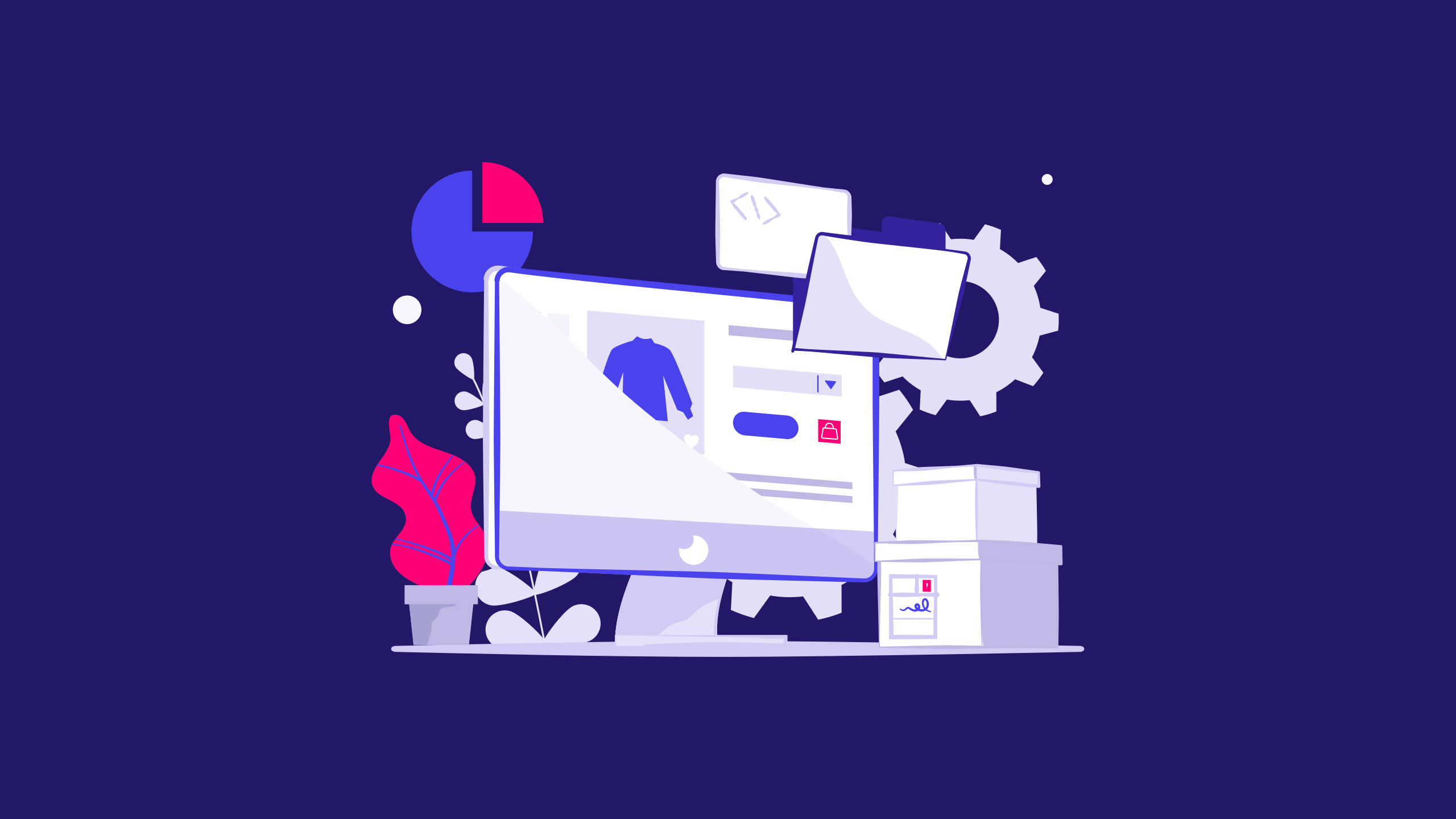 Though price is not the only factor that must be considered here before developing an eCommerce store but it should definitely be kept in mind. Afterall, this is not the only project that you will be taking care of, so you should be extremely careful with the money you are spending. Not having a clear action plan can cost you at a hefty price.
Considerations for determining the cost of an eCommerce website.
Website development is not easy. It comprises lots and lots of pieces and stages which have the power to shake the overall cost. So it is very important to determine a fixed budget and stick to it so that your eCommerce development project doesn't cost you an arm or a leg. Also, you will eventually be able to consider what additions are required. Without having a clear and concise budget, overspending is inevitable.
Now if you ask me directly, I say the overall cost of developing an eCommerce store can begin from $40 and $4000/month, plus $1,500 – $30,000. However, it still varies depending on which eCommerce development company you are willing to work with. For example, if you hire a team of eCommerce developers residing within your region or country, the cost of development might rise and if you end up hiring a team of eCommerce developers from overseas, somewhere in India or Philippines, China which are some of the best offshore destinations. You might receive high-quality eCommerce stores at a reasonable price.
According to several reports, the ecommerce sales worldwide amounted to $3.53 trillion. Now before we directly begin with determining the cost of developing an eCommerce store, let us go through certain things to keep in mind.
The type of online store.
First and foremost, you need to decide on the type of online store you are willing to create. For example, are you trying to sell products or services? You see ecommerce stores that tend to offer products are differently created from those who offer amazing services. For products, you must know how many types and models of products you will sell and most importantly to whom you are planning to sell these products. Is it B2B or B2C? Try to nail things down as much as you can. Also, think in how many languages you want the store to be good at. All these small aspects can create a great impact on the overall cost of your eCommerce store development project.
Online and offline or just online.
Another interesting factor to take into consideration is, are you willing to sell products online and offline or just offline. I mean do you wish to sell products via both online and brick and mortar stores or just online. There was a time when brick-and-mortar stores were given quite an importance. Fortunately, that's not the case anymore. Even having a strong online presence is more than enough. In addition, with a strong online presence, small businesses can go global by offering buying online and picking up in-store (BOPIS). Such options can expand business reach in no time.
Selling products online is pretty much evolving day in day out! So yes, you need to consider such factors before developing one.
Budget.
The next factor to take into consideration is budget. Afterall, nothing is available for free! So yes, price or budget has to be taken into consideration right away. In today's ever changing times, getting distracted by different designs and options is pretty easy. So try nailing things down your eCommerce development budget and that too in a nick of time.
So now here comes the big question. How one can determine the overall cost of developing an eCommerce store. Well, one of the most significant factors to consider here is that time is money! In several cases, it has been found that the more time is spent on the development of eCommerce stores, the more money you are likely to pay. For such cases, you can always opt for Shopify stores, WooCommerce and BigCommerce which are easy to get started with. Everything right from different designs, themes, shipping options, inventory measures, these stores can simply get you covered.
Further I would like to mention certain aspects or factors to take into account especially before determining the eCommerce development cost.
Factors to keep in mind before developing an eCommerce website.
1. Hosting costs.
One of the major factors that can even act as a game changer is the web hosting cost. You see it takes $10 – $20 per year for domain name and for web hosting especially if you chose an SaaS solution, then it takes $29 – $250/month whereas for a self-hosted web hosting solution, it takes around $2.99 – $200/month. And if you are considering a web hosting solution for an enterprise business then chances are that it may lead to $1000/month or more. After all, an enterprise business is expected to be pretty busy featuring lots and lots of visitors on a daily basis. Also, you may need increased redundancy and a lot more.
Now when you choose a self-hosted platform, what happens is you can think of considering WooCommerce. These kinds of ecommerce platforms have the potential to power a plethora of small and large online stores. WooCommerce is available for free. So any business can download it and use it at any point of time. In addition, do think of a relevant domain name and SSL certificate. Some of the core benefits offered by self-hosted eCommerce site include:
A complete control over the development of the eCommerce store.
Tons and tons of money can be saved.
Different payment gateways, unlimited products can be added.
Whereas hosting for SaaS platforms can be slightly different. Here businesses no longer require to install the software, manage it or even host it. The website hosting price is already included here. Here Shopify and BigCommerce must be taken into consideration. You see they are incredibly easy to get started with and highly scalable eCommerce platforms. Where businesses can sell different types of products online. In addition, if you are using a self-hosted site then sooner or later you might have to consider upgrading to WP Engine, Liquid Web, etc.
2. Payment processing.
One of the major factors to take into account is payment processing. Initially, you may not take it very seriously but it is important. You see different platforms tend to offer different payment processing options, each one featuring pros and cons. So what are the best payment processing options that must be considered?
PayPal or Stripe for WooCommerce – 2.9% + $0.30 for a single transaction.
Shopify Payments for Shopify – 2.4% – 2.9% + $0.30 for basic Shopify and for the advanced version, the charges increase 2% per transaction for third-party gateways.
PayPal or Stripe for bigcommerce -It takes from 2.4% – 2.9% + $0.30 per transaction.
The aforementioned are different softwares featuring a wide range of payment platform integrations. Also, these platforms are open source which means they tend to use any payment gateway they want. Fortunately, WooCommerce highly supports PayPal and Stripe payment gateways where credit cards can be accepted right away without much hassle. Fortunately, one can choose from a plethora of other payment services available especially in the form of extensions. Here what you need to do is simply pay the processing fees and simply sit back and relax.
Another interesting advantage to consider here is WooCommerce extensions are also available for lesser-known regional payments and a lot more. The next option here is Shopify. Shopify payments are available only in 13 countries. For example, if you happen to consider a third-party payment service, which of course, you can but only you have to pay an additional fee to shopify. It might seem costly at first but if you see the overall picture, it actually isn't! Another interesting option is BigCommerce, where you get to choose over so many third-party payment gateways for ecommerce websites. Here you can expect a global reach. Some of the top payment services include PayPal, Square, Stripe, Authorize.net, etc.
3. Search Engine Optimization (SEO).
Another interesting aspect or factor that has to be taken into account before or while estimating the cost of a development of an eCommerce store is search engine optimization. I mean is there any point in developing a website which cannot be found by anyone? Of course, not! And this won't do any good to your business as well. So even though it's an eCommerce store, one must build it considering SEO in mind. For that, you can always consider hiring the best SEO professionals or digital marketing agency that has a proven track record of developing websites that rank on the very first page of the google search engine. Hiring an SEO agency cost might range from $2,500 – $10,000 per month. However, again if you try hiring offshore services, then it might get a lot cheaper.
Final Words.
And we are almost done here! These aforementioned are some of the major or top concerns that can affect the overall web app development cost. Apart from this, you need to try finding the right balance of tools and then move forward. I hope you have gained helpful insights from the following post. In case, if there is something bothering you, feel free to reach out in the comment section below.