The drone industry has expanded leaps and bounds since the portable aerial technology first came into the limelight. So, whether you are a surveyor or a hobbyist, owning a drone requires a bit of research before you make your very first drone purchase.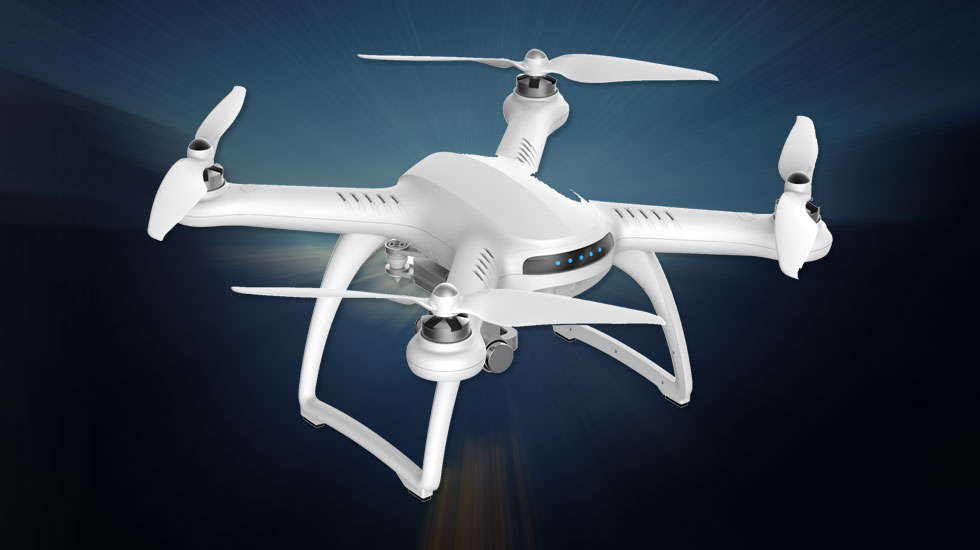 First, it's critical to understand the difference between a quadcopter that is ideal for standard use and a powerful octocopter meant for advanced imaging which also comes with a hefty price tag. Smaller drones are easier to maneuver and are meant for beginner drone enthusiasts. Larger drones require an advanced experience in multirotor orientation before you can handle them.
Next, the type of camera that is outfitted to these drones can mean receiving blurred images versus crisp HD quality photos. The camera also needs to be able to take pictures while moving at a high speed and hence focus on stability is crucial.
More: 10 Best Camera Drones (Quadcopters)
Here are the top 8 companies that are reputed for building quality aerial drones with some of the best cameras attached. The choices were based on various factors such as stability, durability, appearance, and usage.
1. DJI Innovations
With its headquarters in Shenzhen, China, DJI Innovations is the current leading name in manufacturing drones. Their phantom series developed by DJI are popular all around the globe for their wireless technology as well as excellent quality in providing services such as GPS First Person viewing.
The Phantom 4 is DJI's premium quadcopter that provides a 5-directional objective sensing feature. The 20-megapixcel camera can shoot up to 4K/60 fps video quality. The drone is made up of titanium and magnesium for a rigid airframe that offers immense durability during flight. With Lightbridge HD video transmission, the image lag is reduced drastically to provide the controller with undistorted video quality. The Phantom 4 offers wireless transmission and is targeted at consumers who don't have a fixed budget in mind.
The Phantom 3 is developed for budget-friendly drone fanatics. It's convenient to handle and comes with DJI's advanced gimbal stabilization technology to record with superior video clarity. The live video feed records at 720p and the drone can fly for a full 25 minutes with a single charge. With a 12MP camera, the image quality is a surreal 2.7k of amazing HD.
2. Syma
Another Chinese giant known for making remote-controlled drones that is headquartered in Shantou, China. Compared to other drone makers, SYMA is a new name in the tech industry but have gained quite a large following in a short time. SYMA offer a variety of wallet-friendly drones.
The Syma X5C comes equipped with a 2MP HD camera for good quality pictures. The drone features a 6-axis gyro for sustained stability during flight even at full throttle. Although the drone isn't the best for flying during high winds, it performs remarkably well at low wind speeds. The drone comes with a prop guard to ensure defensive measures are in place during flight. It requires 2 batteries to power up and comes with a 3.7v 500mAh stock battery.
The Syma Explorers 2.4G offers colorful LED lights for drone users to fly even during night time. The 2.4GHz technology built into the remote control offers zero communicational interference between the user and the drone. The Explorer 2.4G can scale up to 100 feet in a few minutes and flies at an incredibly controlled pace. The budget drone is fitted with a Micro SD card and 3.7V 600mAh battery.
3. Hubsan
With yet another Chinese company gracing this list, the Hubsan is quite well known among the drone flying community. The main headquarters are set up in Dong, China. Hubsan is known for making drones that are both – professional and beginner-friendly. The X4 is the best-selling series for Hubsan.
For the absolute best value for your money, the Hubsan X4 H107 comes with protection guards for enhanced durability. With full directional control support, you can sway your drone sideways and even backward with a flick of a finger. A toggle is provided to switch between normal and expert mode for better control. The drone is also equipped with LED lights to illuminate in the dark. The joystick comes with an LCD screen that is equipped with a 2.4 ghz transmitter.
If you are looking for a drone that can offer superior flight indoors and outdoors, look no further than the Hubsan Hornet Quadcopter. Featuring USB charging that allows you to charge your drone next to your computer, the drone comes in 4 distinct LED light colors. The 6-axis flight system allows you to adjust the sensitivity of the gyro to your taste. The HD camera can be custom fit by the user.
The Hornet requires some amount of calibration and can be quite loud. The other drawback is the fact that the battery lasts just a little over 5 minutes.
4. Holy Stone
The first company from the United States on this list, Holystone was founded in 2014 and is relatively new in the drone business. The company prides itself in making household RC drones that offer a balance between automated technology and manual control.
Take the F183W model, for example, it features a unique one-key return setting that can be activated during headless mode – a mode that allows your drone to fly towards the direction of your transmitter. It features a 120° wide FOV camera that takes high-resolution pictures and handles video at 720p. With live video feed being transmitted to your mobile device through wi-fi support, this quadcopter offers a premium package at a budget price.
For novice drone users, the HS170 offers a headless security system to fly without any movement controls needed. The drone is wind-resistant and flies at a maximum height of 50 meters. The drone is equipped with the 6-axis gyro system for ample stabilization during flight and the flying time is around 5-8 minutes per charge. The drone is perfect for younger users aged between 8-14 years to get the hang of flying a drone.
5. UDI RC Toys
The Chinese drone manufacturer is the latest entrant into the tech industry, with favorable reception received globally, UDI has released a popular line of RC quadcopters that are completely radio controlled and wirelessly operated.
With a disc-shaped design, the U818A from UDI offers a posture control that is inbuilt with its 6-axis gyro system. The shape of the drone is flatter than most drones and offers a superior stability due to its 4 Channel function. The duration of the flight is estimated to be around 8-9 minutes for every charge. The maximum height that the U818A can scale is around 30 meters. Due to its modular look, the drone can be easily installed in a few minutes.
For the traditional drone look, UDI has come up with the RC U27 that offers a special feature allowing the drone to flip and fly in an inverted 180° angle. This allows for better video capture and enhanced acrobatics. The drone comes with the headless mode feature to eliminate any sort of positioned pre-flight. The U27 features different modes to choose between stability and acceleration. Flashing lights are enabled for enjoying the drone even during the night.
6. JJRC
Originally a toy manufacturing company, JJRC is a Chinese company that creates remote controlled vehicles. They entered the drone industry and have an extensive knowledge in creating sleek and hi-tech drones with a focus on casual entertainment and hobbyists.
The Floureon H12C offers an outstanding 2.0MP camera with 1080P of HD video. The camera can provide a scenic view of the world from atop the sky. The 2.4G inbuilt technology allows no interference to take place during flight. The standard 6-axis gyro is provided for apt movement and easy maneuvering.
The drone can also hold itself against heavy winds and can be flown indoors just as easily. Without burning a hole in your pocket the H12C is a nice investment for those looking to invest in a drone that offers the most bang for their buck.
If you are interested in gorgeous photography that offers a 360° scope of shooting angles, the Voomall H8C is for you! Whether you are ascending or descending, moving back or forward, the H8C can take a wide angle shot without blurring. Flashing LED lights enable the drone to be used in the dark of the night for optimum night flights. The controller comes with an LCD monitor and is designed with plastic covers to offer full protection for the blades.
7. Autel Robotics
Another top company coming out of the United States and headquartered in Bothell WA. Autel Robotics is well known for their technological advancements and engineering experience, Autel provides solutions for aerial exploration through quality and cost effective camera drones and quadcopters.
Although Autel Robotics lack a real collection of drones, their X-Star Bundle offers a full set of drone equipment ready for use. The X-Star drone itself comes with a 4k Ultra HD video camera to offer splendid and breathtaking visuals. It's also setup with a 3-axis quick release gimble stabilizer for maneuvering. The remote control provided is entirely interactive and provides one-button support for most drone actions.
The second bundle that Autel Robotics offers is the Premium X-Star. This bundle differs slightly from the non-premium by offering special accessories like the 64-gb microSD card, a faster charger, spare propellers and other user-friendly parts. Apart from this, the premium remains true to the X-Star and comes with the Dual GPS outdoor navigation system as well as the SecureFly that allows absolutely no interference in transmission.
Both the bundles come with the Starpoint Positioning feature to relocate your drone at any time.
8. Walkera
Walkera is a Chinese based company that is located in the Guangzhou region of China. The company is well known for selling mini quadcopters and is targeted exclusively towards drone racing. With drone models focused on stability and maximum acceleration, drone users will find a nice balance between the two.
For an unforgettable flying experience, the Furious 320 quadcopter comes with a solid toughness, anti-impact stability and does not gimp out on the real-time transmission, thanks to its HD 800TVL camera. The drone is built on energy-saving LED technology and warns racers whenever an opponent changes their path. The Furious 320 is fiercely agile and can cut corners at a rapid pace. The drone is great for fun and entertainment and can offer video recordings post the race.
Featuring an optimized receiver that provides a faster response time between the user and drone, the F210 3D Edition is made from carbon fiber and comes with a protective cover. The wireless signal offers unrivaled reception and image transmission. The HD camera comes with night vision to allow racing even in the dark.  The brushless motor comes with a guard landing cushion for absolute toughness. The drone delivers a high-quality racing performance and is still very much safe in terms of usage.
Conclusion
Ready-to-fly drones are a growing trend of portable aircraft that share the airspace with other passenger and commercial planes. It's necessary to follow the airspace regulated rules set by your state or country and follow the general safety precautions printed within the manual of the drone that you purchased.
The more knowledge that you put into researching a drone, the better you understand the type of drone you require. For professionals, it's critical to invest in a good controller to be able to transmit signals without interference. Chargers that come packed with your drone are usually slow and unreliable, a quality charger should be able to charge lithium batteries as well as lead acid batteries with ease.
There are plenty of helpful forums and communities available exclusively for drone owners. Use them wisely and make a friend or two in the process.