Gone are the days when photography was confined to a black and white Polaroid pictures. Today drone cameras and other digital trends have taken the world by storm.
Ever wondered how filmmakers manage to get a bird-eye view (a full long shot of sorts) over mountains and rivers? Ariel Photography is the answer.
Drone cameras have been in business for quite a while now catching the interests of amateur aspiring photographers, scientists and professional alike.
Moreover, the fact that drone cameras look super cool only adds on to their appeal. Discussed below are the top 10 best drone cameras of the year along with a comprehensive buying guide that will help you decide what's best for you:
Top Drone Cameras at a Glance – Comparison Chart
You can check out this comparison chart before moving on to the detailed reviews so as to get an accurate idea about the top features of the brands mentioned below:
| Drones | Camera Type | Resolution | Megapixels | |
| --- | --- | --- | --- | --- |
| DJI Mavic Pro | Integrated with Gimbal | Upto 4K | 12 MP | |
| DJI Phantom 4 | Comes with Gimbal | Upto 4K | 12 MP | |
| DJI Inspire 1 | Comes with Gimbal | Upto4K | 12 MP | |
| DJI Panom 3 | Integrated with Gimbal | Upto 4K | 12 MP | |
| UDI 818A | UDI HD Camera with WiFi | 128×720 | 30 FPS | |
| Yuneec Q5OO | Includes its Gimbal | Upto 4K | 12.4 MP | |
| 3D Robotics Solo | Single Gimbal and Adjustable Camera | Upto 4K | Camera Dependent | |
| Cheerson Hobby CX-20 Professional | Compatible with Almost Any Camera | Depends on the mounted camera | Also decided by the camera quality | |
| Parrot A. R. Drone 2.0 | Integrated with Gimbal | 720P | 14 MP | |
| 3D Robotics Iris+ | Compatible with Black 4, 5 and Sessions 5 | Determined by the mounted camera | Also camera dependent | |
The Models That Were Left Out and Why?
Even though the compact table given above was made after a lot of careful analysis and tests, it is impossible to include all the able and deserving brands on our list. There have been some brands or traditional models that failed to make the cut because of some technical glitch or error in design.
For instance, DJI Professional series and the GoPro Karma were a few of the products not mentioned above. DJI though a household name among photographers and camera enthusiasts is known for launching complex and very expensive drone cameras in the market that are not feasible for a budget bounded user. The GoPro Karma, on the other hand, was pulled out of the market shortly after its launch as many customers complained of its unreliable power supply and performance.
Top 10 Best Camera Drones with Review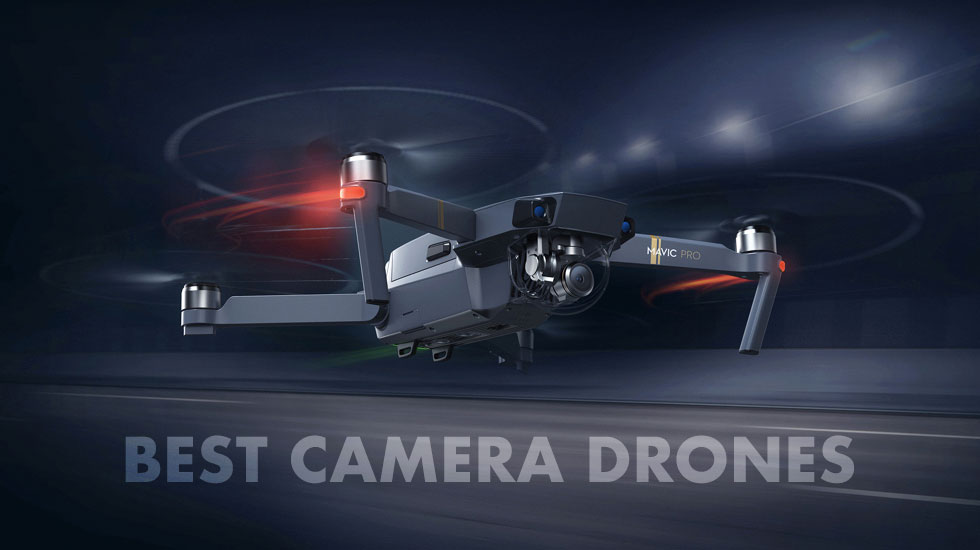 Love them or hate them, drone cameras are here to stay. So, without much further ado, let us move on to the good part, the juicy details. Check out the detailed reviews of the top 10 drone cameras of 2017 complete with all their features, specifications and functions:
#1. DJI Mavic Pro
DJI or the that Dà-Jiāng Innovations Science and Technology Co. is a Chinese company that is known for launching some of the best drone models in ever seen in the market. The Phantom series, for instance, is a rage among customers due to its simple, sturdy design and flexible operation. DJI Mavic Pro is another recent addition to the list and has fast become a personal favorite of many professional photographers including Casey Neistat.
A compact and lightweight model, the camera is built to support all kinds of photographic techniques. The smart foldable design and detachable axis further add on to its portability (it can be folded to the size of a small water bottle). Moreover, the OcuSync transmission system allows an impressive transmission range of about 4.3 miles (i.e. 7km) at an impressive speed of 40 mph (or 60 km/hr).  Other attractive features include ActiveTrack technology and a TapFly application that assists users in getting high-definition pictures with greater accuracy and precision that anything you will find anywhere. Also, the brilliant 4K resolution and 12-megapixel camera enhance the video quality
The DJI drone is compatible with all platforms and devices enabling better tracking of any obstacles that might get in the way. It can also switch lanes to avoid visible damage thanks to the built-in sensors and a robust vision positioning technology (similar to GPS and GLONASS) for both indoor and outdoor use.
Pros
A solid OcuSync transmission system for wider range and speed
High-resolution 4K video recording for better quality
Compact foldable design for better portability and storage
Flexible enough for both indoor and outdoor use
ActiveTrack system for getting precise positioning and avoiding obstacles
Cons
The framework is susceptible to external damage (extremities in temperatures, strong winds, and excessive humidity)
The battery lasts just about 23 minutes before it has to be recharged again
The framework requires a smartphone for controlling
Records in both Portrait and Landscape modes
The Final Verdict
The latest addition to the DJI family, the Mavic Pro has all the necessary features needed for a dependable and durable professional drone camera.
#2. DJI Phantom 4
The Phantom series by DJI is among the most popular models launched by this Chinese company. Moreover, though the product is comparatively heavier and bulkier than its competitors such as Mais or Karma, it still is one of the best professional cameras out there. DJI Phantom 4 is a part of the acclaimed Phantom series (recommended by none other than Casey Neistat). Whether you are an aspiring photographer or a professional, the Phantom 4 is ideal for any purpose. A tried and tested model; this drone camera has only contributed to DJI's credibility in the market.
The smart GPS tracking technology integrated into the DJI Phantom 4 framework enables the device to find its way back to the user easily. Also, this drone camera is extremely user-friendly and allows absolute control and ease of operation. You can now customize and manage all the camera settings conveniently thanks to the high-tech console. The drone offers an incredible resolution of 4K at 30 fps along with a 12-megapixel image quality support. The product also features an impressive f/2.8 lens for a wider frame and clear, crisp pictures.
Almost every DJI model has a built-in Gimbal stabilization system that offers users a stable hover function and amazing clarity even on a windy day. The drone can stay up for about 28 minutes and supports a maximum speed of 44 mph. The model is good enough for both casual photography and serious filmmaking and military purposes. The sturdy all metallic construction is durable and versatile enough to support all areal photographic technologies. Also, the integrated tracker and video editor allow users to add special effects and text to the recordings.
Pros
Armed with an optimized vision positioning system, the device can be raised up to an altitude of 10 meters
A smart obstacle avoidance system and GPS tracker for smooth flying
Features TapFly and ActiveTracker technologies that enhance the performance with a simple touch
The inbuilt Gimbal installation for better stability and image quality
Allows slow motion video recording and on the spot editing features
Cons
A bit on the expensive side
The model is available only in white
The heavy-duty bulky design is hard to move from place to place
The Final Verdict
A personal favourite of the famous YouTuber Casey Niestat (he owns 5 Phantom 4 models), it is one of the best drone devices in the market today.
#3. DJI T600 Inspire 1
Here, we introduce another model by DJI; the T600 Inspire. Although this one is not a part of the famous Phantom series, but has gained quite a reputation. The DJI Inspire series has a set of unique features and specifications that sets it apart from its contemporaries. For instance, in the T600 model comes with an option of single control and dual controller system. You can choose either of the two depending on your requirement (professionals and tech enthusiasts can go for the two driver model for better flexibility). Other than that the model has all the features of a typical modern drone camera. The 4K video resolution along with a 12-megapixel camera is excellent for videography and recording high-quality, detailed pictures.
The Phantom 4 model discussed earlier is another DJI product that though competent and robust is not as efficient as the Inspire 1 drone. You can trust the T600 drone camera to record detailed and accurate images brimming with colors, textures, and details. The device also consists of all the typical features of DJI models such as ActiveTracker, TapFly and GPS support for smart obstacle avoidance and smoother performance. The two-controller model, though expensive, allows greater flexibility of action and convenience.
Other than that, the T600 features a ready to fly system, i.e. the setup comes with all the necessary additional accessories needed when the drone is up in the air. The device is connected and controlled by your smartphone or laptop for aggressive live HD video recording and accurate image capture. Customers can now view live real-time recording and newsfeed directly on their phone in a 720p resolution frame. The arms of the drone are made of fiber and are well hidden from the frame when flying. Plus the detachable Gimbal support adds on to the stability and sturdiness of the machine. You can upgrade the Gimbal and camera application to a higher version or simply dismantle the model for better portability.
Pros
Solid metallic construction and fiber arms
4K resolution and 12 MP image quality
Suited for both casual and professional videographers
Features removable Gimbal, and camera that reduces the size and weight of the model
Armed with advanced functions like "follow me" or "intelligent flight."
ActiveTracker, TapFly, and Obstacle avoidance system for smooth flight and video recording
Cons
Costs a lot more than other DJI models and other brands
The battery quality is very weak and doesn't last all that long
The Android support is not efficient enough
The Final Verdict
Replete with almost every possible feature and high-end functions ever imagined in a drone camera, the DJI Inspire 1 series is a smart choice for professional photographers more than hobbyists and amateurs.
#4. DJI Phantom 3
DJI is considered to be among the top drone manufacturers that dominate the market (and our list). The Phantom series by DJI has been setting the yardstick for quality and efficiency ever since its launch. The product in the question, Phantom 3 is one such model that is equally alluring to both professionals and casual users. Don't believe us? The DJI brand has been a personal favorite of the famous filmmaker/YouTuber Casey Niestat who uses the Phantom 4 model as his primary drone camera for shooting the majority of footage.
The DJI Phantom 3 is a more upgraded version of the Phantom 4 that is programmed to record, shoot and store high-quality images and videos from the sky. The Phantom 3 does not feature any drastic differences in either the technology or design but simple, just subtle changes that enhance the performance in the long run. With the golden accents and fiber blades, the Phantom 3 Professional is more compact, appealing and flashier than its predecessor. The additional extensions in the frame further boost the camera's functionality and complement the overall construction well.
Tried and tested by our team of skilled technicians, the Phantom 3 fulfills all our primary criterions that we look for in a typical drone camera. However, on the downside, there are a few minor issues and technical glitches that can be a problem, but more on that later. For now, let us talk about the good things. The DJI Phantom 3 is very user-friendly and requires no particular skill or professional guidance whatsoever. The simple construction suits beginners while the high-tech features are a source of great delight for the professionals. The 4K resolution video cameras offer a 12-megapixel image quality that records clear, crisp and detailed videos. Also, the smart tracking, obstacle blocking, and GPS technology reduce risk of external damage.
Armed with a vision positioning system and Lightbridge digital streaming of footage the DJI drone cameras can be used both indoors and outdoors. You can now control the drone inside your house and live stream 720p videos on the internet directly through your smartphones! The device is compatible with all IOS, Android and Windows platforms thereby expanding the scope and performance of the camera tenfold. The model runs on rechargeable carbide batteries that offer a decent backup of 20 minutes on a single charge.
Pros
Very stable and easy to control
4K video recording and live Lightbridge streaming
Lightweight, compact and portable- can be used almost anywhere
Tracking, obstacle blocking and integrated sensors for enhanced vision
Automated flight mode and return to home functions for better control
Cons
Costs a fortune (you have to purchase the additional accessories separately)
The battery is pretty mediocre and lasts about 20 mins max. (extra batteries are costly)
The Final Verdict
A younger brother of sorts of the Phantom 4, the Phantom 3 model has everything you can ask for in a drone camera.
#5. UDI 818A
Before you buy a flying drone or quadcopters, there are two things you must consider. First, the type of drone and secondly, the price. Drone cameras come in both automatic and remote controlled designs. The UDI 818A belongs to the second category. With its minimalistic design and simple, lightweight construction, the UDI 818A is a decent drone camera for aspiring photographers. The UDI model though not much to look at is a quite the surprise package when it comes to capturing detailed and precise images.
The performance of the UDI 818A is primarily based on how the user handles the camera. The plastic framework not only shields the motor from heat and excessive wind but is also light enough to move from one place to another. Armed with a small 500 MaH battery and a little custom made camera, the drone can travel uninterrupted capturing images from all angles and locations. The framework also features a micro USB card on the right side of the device to store the footage recorded by the camera.  Even the blades and rotors of the model are made of the same thin plastic and can be easily detached from the drone if needed.
The body also features a lot of LED lights for extra appeal and enhanced visibility. Run on a remote controlled console; the device looks like a toy drone. The remote consists of a lot of handles, buttons, and indicators for customizing the camera settings and tracking the movements of the drone. 36 Eversion system, GPS technology, and vision positioning are a few of the many high-tech functions that the drone features. The 30 FPS megapixel and 1280×960 resolution offer high picture quality and HD live streaming of footage captured. All you have to do is connect the device to any Android or IOS device, and you are set.
Pros
Very lightweight and easy to control
Small but competent battery support
Smooth and hassle free movement
Very cheap when compared to other brands
LED lights and vision positioning sensors for better visibility and control
Built-in micro USB chip for external storage and live streaming
A user-friendly remote controller and impressive console
Cons
The battery life is pretty ordinary
Weak construction that can break anytime
Lackluster images and poor video streaming quality
The Final Verdict
The UDI 818A drone camera is an inexpensive drone that is fun to fly around. Go for it if you want to experiment with aeral Photography or simply learn the basics.
#6. Yunneq Q500
Up until now, we focused on a particular brand DJI; it is high time we explore the other players in the game. Other than DJI, the next drone manufacturer that has stirred the industry is Yuneeq, a name almost every photographer and camera enthusiast is familiar with. The product in question Yuneeq Q500 Typhoon, though recently launched in the market, has already become a favorite.  Very different from the DJI series of drones, the Yuneeq models are known for their stylish, sleek and surprisingly large framework and robust construction.
The all black design of Yuneeq Q500 Typhoon looks super cool when compared to the sober shades of the DJI Phantom line. Yunneq is said to be the manufacturer of the prettiest and most sophisticated drone cameras in the market. However, the virtues of this brand are not just confined to external appearances. The Q500 Typhoon is replete with some high-tech features and camera settings that assist users in recording clear, detailed and vibrant graphics. Sure there are a few problem areas and minor glitches you have to deal with, but the perks far outnumber the flaws.
Let's start by focusing on the good things; the model is comparatively cheaper when compared with the DJI models making Yuneeq a practical choice for beginners and amateur photographers. Also, the Q500 offers a 4K video recording resolution and 12-megapixel picture quality for capturing precise, detailed and sharp images. The distortion free lens is ideal for shooting still photographs. The camera can be detached from the frame and used separately as well. All you have to do is attach it to a handgrip and start clicking. The Typhoon multipurpose drone camera even comes with a screen for viewing live footage as and when it is captured. You can control and customize the camera settings directly from the display. The model also features a built-in remote for automatic control.
The batteries last longer and are comparatively tougher than those offered by DJI. Additional accessories include a large carrying case, two spare batteries, and a compact Wizard remote control. On the downside, the drone is difficult to move around and is not very travel-friendly.
Pros
4K resolution and 12MP video quality
Strong, durable and smart design
Attractive design available in a variety of shades
Very easy to control
The camera can be used separately and is great for still photography
Cons
The batteries take much time to charge and drain out real quick
There is no tracker, GPS or WayPoint navigation system
The video or images captured is often blurry at the edges
The Final Verdict
The Yunneq Q500 is best suited for professionals and aspiring photographers who are looking for a cheap but powerful drone device for capturing fantastic still images.
#7. 3D Robotics Solo
When you talk about drone cameras names like DJI, GoPro is among the first brands you consider. No one thinks about an underdog like 3D Robotics that doesn't get much media attention and significance. However, the fact that the firm is overshadowed by big shiny brands does not reduce its credibility and uniqueness in the market. We have included an unusual name in our list. This often overlooked drone camera model is an excellent choice for both beginners and serious photographers.
The product in question is the 3D Robotics Solo (sounds like something straight out of a sci-fi movie right?). The drone focuses on delivering optimum performance and top picture quality using minimum resources. You will get more than your money's worth if you invest in 3D Robotics. Now, most drone manufacturers launch their line of cameras as well that complement the drone framework. However, some companies manufacture drones that are compatible with popular camera brands such as GoPro. 3D Robotics Solo is a drone that falls into the latter category. You need to buy the camera separately.
In case you have some extra bucks to spare you can also install a Gimbal bundle for extra stability and accuracy. The cost of the entire setup would still be cheaper than most other brands in competition. The drone features a balanced, commercial construction that combines the best of sturdiness and style. Also, the drone features a return to home safely feature and an inbuilt GPS integration that enables the device to go back to the set location automatically once the job is done.
The 3D drone comes with a powerful 1GHz processor that allows better tracking and control from IOS and Android platforms. You even get an extra remote monitoring and touch screen console for smoother operation. As the entire framework is made of different detachable parts, the drone can be easily dismantled and reassembled. A convenient and robust device, the drone is loved by both hard-core videographers and newcomers.
Like any other product, the 3D Robotics also comes with its fair share of disadvantages and minor faults. For instance, the GPS is comparatively weaker and takes much time finding the correct position. Also, the battery is not that great and drains pretty easy.
Pros
Sleek, stylish and detachable design
Gimbal support (you have to get it separately installed)
Compatible with all IOS and Android devices
Very budget friendly and easy to use.
Cons
The GPS signal is feeble and often inaccurate.
The battery is weak and does not last very long.
The Final Verdict
A very balanced and stable drone camera, the 3D Robotics Solo is sleek, sturdy and reliable- a profitable investment.
#8. Parrot AR Drone 2.0
Parrot AR Drone 2.0 is a unique and unconventional model that is considered to be one of the smallest drone device, and makes our list because of this virtue of compactness. However, its uniqueness is not just confined to the size but the overall construction. Unlike other brands mentioned above, the Parrot AR drone has an entirely different design language that resembles a saucer or flying spaceship. Also, the drone is relatively cheaper than its competitors, adding on to its mystery and appeal. The model breaks free from the typical drone construction and instead establishes a personalized frame not very competent for professional use.
The Parrot AR is drone built for users who want to experiment and venture out into the unknown territories of Ariel photography. Another thing that you should probably know about is that the AR model is a toy drone with a camera. You will not be getting the usual 4K picture resolution and 12MP quality. This full sized toy drone is best suited for newcomers and amateurs who want to explore and learn the photography techniques and simply have some fun.
The drone does not feature any external manual control or an inbuilt remote controller; the device is monitored by an application, the Nvidia Shield that has to be connected to the smartphone or any other IOS/Android device. An attractive and appealing choice for tech geeks and software enthusiasts, the AR drone combines the best of a decent camera and a toy. Will Greenwald of PCMag gives the perfect explanation:
"The Parrot AR.Drone 2.0 is the hybrid between toy and enthusiast device. Not your basic remote controlled heli-camera for hobbyists; not the sophisticated quadrocopter camera mount used by professionals, but somewhere in the middle."
Moving on to the features and specifications, the drone features straightforward and smooth controls that allow high flexibility of action (i.e. you can try out stunts and tricks). The device, though not equipped with a good camera, offers users two built-in cameras with loads of cool functions and settings. The AR model is available in a wide range of vibrant shades and is a welcome change from the series of dull and boring professional drones. The battery life is not too great, which has been our finding with most drone cameras in this range.
Pros
Best suited for playing and simple casual photography
Funny and exciting camera functions
Compatible with smartphones and other IOS or Android devices
Very cheap and vibrant, the model is a unique, innovative drone
Cons
You cannot control it manually or via remote controls. You need a smartphone.
The battery is weak and drains pretty fast.
The final verdict
A very unconventional and innovative drone, the AR model is more than a toy but less than a professional aerial photography device. The product is certainly not built for serious videographers; go for it if you want to have some fun and learn in the process.
#9. Cheerson Hobby CX-20 Professional
Possibly the most inexpensive drone model on our list, the Cheerson Hobby is not exactly a household name but a brand that camera enthusiasts might be familiar with. The company name very blatantly suggests its market, the hobbyists and amateur photographers who pursue aerial videography. However, the drones are all of the superior quality and suit professionals as well. This drone is inclined towards newcomers and looks much like models from DJI Phantom series. The red accents on the framework are the only difference between the two models.
The CX-20 drone does not come with its camera; you have to get a special GoPro camera model separately for shooting footage at 4K resolution. A very affordable and attractive drone, the Cheerson Hobby CX-20 is often mistaken to be a toy when in fact the device is very sturdy and robust. Armed with loads of advanced features such as ActiveTracker, vision position system, and obstacle avoiding technology, the drone can be used both indoors and outdoors. The drone even features a reliable remote controller for maneuvering the drone where you want.
The high-tech features such as Pathfinder, vision positioning, and inbuilt radars make the CX-20 drone a smart option for filmmakers and tourists who want to capture live footage. The drone also has an integrated auto-return feature where the device is pre-programmed to go back to a particular location once the job is done. Moreover, the white body with red accents is both lovely and durable enough to face minor disturbances in the atmosphere.
The user-friendly drone can be controlled manually and does not require much technical expertise. On the downside, the battery life is very weak and has to be frequently charged.
Pros
Intelligent GPS system, Pathfinder, and return to home functionality
The detachable design for easy portability and storage
Controlled using an automatic remote (you can even customize it manually)
Very reasonably priced when compared to other models
Cons
Drains very quickly and takes much time to charge up
The spare parts and additional accessories are not readily available in the market.
The Final Verdict
Advertised as a hobbyist's drone camera, an inexpensive model that is a fabulous option for casual photographers and travelers.
#10. 3d Robotics Iris+
Last but not the least, the 3D Robotics Iris+ is a smart choice for users who are looking for a simple cheap and decent drone camera for some casual photography. We have already discussed the brand 3D Robotics earlier in our list, and the Iris+ series turned out to be a powerful competitor making it to our top 10 list. Iris+ is a fascinating and appealing drone camera setup that comes with a lot of incredible features found in the best high-end drones like DJI Phantom and GoPro series.
We are finally on the last product that will be going on the list, and just like the previous entries, this again is a drone made specifically for the hobbyist. This is a surprisingly powerful drone device that does not come with its camera, and yet is a lot more efficient than some of the big brands of the industry. With 4K resolution and 12MP picture quality, 3D Robotics Iris+ is great for still photography.
Blame it on the marketing strategies, but Iris+ is often believed to be a toy drone with its sensors and additional lights and accents. However, the model is relatively vast and intimidating, performing well in almost every sector. The LED lights installed on the arms enhance the visibility and ensure better control of direction. The setup is shipped in a package that comprises of many additional accessories such as replacement propellers, a memory stick (4GB) and extra batteries.
The detachable design of the drone makes it a compact and portable device that can be carried about almost anywhere. It is recommended that you get a separate Gimbal tilt mounting system installed for better stability. Other than that the device is armed with a return to home feature, GPS tracking and remote controlled operation for viewing live stream footage. On the downside, the features might be a bit too complicated for amateurs and first-time users. Also, the drone takes a while to stop the motor and shut down.
Pros
High-end advanced features such as live tracking, GPS and return home feature
Gimbal Tilt for stable positioning
The changeable camera and detachable design for better portability
Surprisingly cheap
Cons
The flight time is about 16 minutes only
Weak framework and poor construction
Complicated remote control functions that might be a problem for first-time users.
The Final Verdict
A simple, reliable and very affordable model, the 3D Robotics Iris+ is the best choice for newcomers and beginners.
Need For Drone Cameras
Drone technology is not something limited to space scientists and NASA; it is now used by filmmakers, directors and aspiring photographers for recreational purposes as well! No longer considered a goofy gadget for nerds and tech geeks, drone cameras are even used in the commercial and real estate sector for marketing and promotional campaigns. Given below are the other reasons why Drone cameras make for great purchases:
Flexible and Versatility
Drone cameras are photography devices used for capturing images of the earth from above. Drones are just small aircraft that are either piloted autonomously using computers or controlled by the user with a remote. Earlier drones were used just for military and research purposes; today you can find these devices anywhere. From the commercial market (marketing and advertising) to the entertainment industry, drones have become an integral part of almost every sector. Also, with their compact size and lightweight design, drones can reach places no other heavy duty aviation equipment can. The user gets absolute freedom of action and flexibility when panning or framing the chosen subject from above.
Very Time efficient
It was not always this easy to get good quality images of things from above. Before drones, people used helicopters and complicated camera setups to get decent shots of the subject from the sky. The process required a lot of preparation and on-site arrangements that cost not only a fortune but also much time. With their compact construction and high-tech features, drones have made our lives so much easier. Unlike helicopters, drone camera setups do not require an extensive team of specialists and technicians to ensure safety. A trained pilot and skilled camera operator can get the device up and fly in just 5 minutes!  Moreover, you can quickly call the whole operation off in the case of a thunderstorm or other glitches. Drones are resourceful, robust and very responsive making them a reliable option for both amateurs and professionals.
Amazing picture quality
With the recent technological advancements, drones can now be used not just for taking still images but also for recording HD videos. Most of the drone camera brands in the market feature a 4K or higher picture resolution for capturing larger frames from a great height. Don't worry, though, the big settlement of the camera does not diminish the picture quality, on the contrary, it enhances it! Drones today come with a 3-axis stabilization system and many Gimbals for switching between camera modes efficiently. Users can now apply the many modes and customizable settings on the recordings. The recent developments in aerial photography allow you to choose from the many camera options depending on the kind of footage you wish to capture.
Other functionalities
Drone cameras have become an integral part of the film industry and commercial sector. Other than that, drones can also monitor farm crops, defence territories, and borders. From surveying the plants to creating NDVI maps and measuring distances between locations, drone cameras can do it all. Scientists and researchers use drones to take accurate images of the places around the earth and get accurate readings about changes in topography and other temperature conditions. You can create 3D maps, show your customers a bird's eye view of the site from above giving you the total picture.
What to look for in a drone camera – The ultimate buying guide
Whether you are a professional photographer, an aerial photography enthusiast, an entrepreneur, a military man, a farmer or a research scientist, drone cameras are required almost everywhere. However not every drone camera is suited to your requirement. Browse through the buying guide below that will help users choose the best drone devices:
Ease of operation
Advanced features
Flexible controls and diverse functionality
Budget friendly
The build, framework, and construction
The Bottom Line
The advanced features, super cool design, and easy, efficient photography of drone cameras has contributed to the sudden rise in the demand for drone devices in the past year. Everyone wants to buy a drone, but is every drone camera worth the money? Look into the features of the drone model and find out for yourself.