You change diapers, clean up messes, and chase kids around the house, but can you also build a strong career while being a mom?
Yes, you can!
A growing number of moms are turning to work-from-home positions that allow them to develop their skills and earn a paycheck from the comfort of their own homes while still balancing motherhood responsibilities.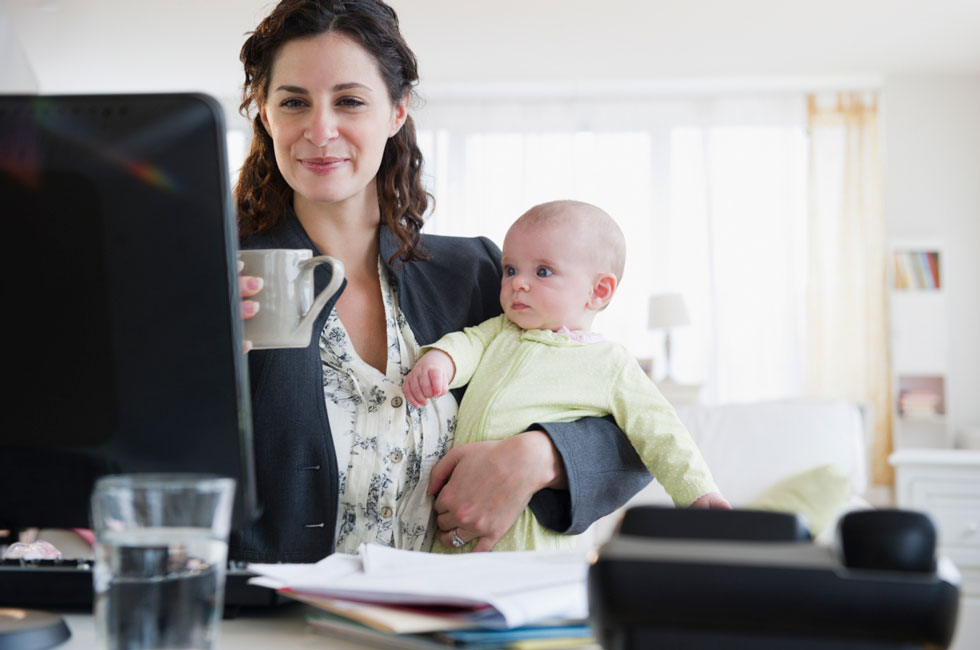 There are a huge variety of jobs you can do from home, but here are five of the most popular choices. No matter what home career path you take, be sure to do your research so you know you are working with a reputable company.
1. Tutor.
Moms who enjoy teaching and working with students can apply their skills as online tutors. Sign up through a tutoring service like TutorVista.com or Sylvan Learning and get connected to students all over the world in a variety of subjects, from elementary math to college-level science. Each tutor sets their own schedule with each student, and because the work is flexible, most services allow tutors to decide how many students they want to take on at once. Because students are relying on you to be available at a certain time, tutoring is best for moms who can set aside a block of time on a regular basis. Depending on the subject and level, virtual tutors can earn $15-$35 per hour.
See Also: Ways to make money without Investment
2. Telephone nurse.
If you have a nursing degree, you can build a remote career and still earn competitive wages with a regular nurse, at around $50,000 a year or more. Phone nurses typically work for health management or insurance companies to educate patients, authorize treatments, and manage cases. A typical shift for a phone nurse could include anything from answering patient calls about symptoms to evaluating disability claims. You can find positions directly through companies like UnitedHealthcare and Humana or go through a medical placement firm such as MedZilla.
You will get better opportunities if you have a degree in Master of Science in Nursing, or an Online NP (Nurse Practitioner) Degree as it delivers the primary care knowledge and clinical reasoning skills needed to prevent, assess, treat, and manage acute and chronic disease.
3. Website tester.
Love cruising the Internet? It's even better when you get paid to do it. A number of companies pay testers to evaluate their websites and make sure they are easy to navigate, have working links, and provide accurate information. Simply sign up through a service like UserTesting.com or YouEye.com and follow the instructions for each website test, which typically only takes around 15 minutes and can earn you $10-$15 each. Many website tests require users to have a microphone or webcam to access all of the features. Website testing services offer quick training to most testers, and the tests can be completed whenever you have a few extra minutes – perfect for busy moms.
See Also: Making Money on the Internet (Not Spam) [Infographics]
4. Medical biller.
Healthcare companies around the world regularly hire remote employees or contractors to input medical codes and records and organize billing data. Remote billers typically use medical records to send codes to various payers and work with patients and providers to send out bills. It is known as being one of the most flexible work-from-home positions. To be a medical biller, you'll need a secure Internet connection to comply with HIPAA regulations. Previous experience in the industry is obviously a plus, but a number of services offer billing and coding classes online to teach you the required skills. Medical billers can earn $12-$25 an hour.
5. Virtual assistant.
Many companies, especially start-ups, hire virtual assistants to help with a variety of tasks such as setting appointments, making phone calls, sending emails, managing social media, or writing. Because the job is so diverse, most moms can find a position that fits their skillset and their schedule. Virtual assistant work can typically be done whenever is convenient and tends to not have set hours. To get connected with potential clients, register with a service like Assistant Match or Ziptask. Depending on the responsibilities and company, virtual assistants can make between $12-$30 and have the opportunity to work for multiple clients at once.
These are the top 5 career options that could make you a work-from-home mom.