With the pace at which Google has started updating its algorithms these days, you cannot take things for granted anymore. If you lose sight of this point, chances of your website getting hit badly by Google and losing all its rankings are very high.
So, make necessary changes to optimize your blog for search engines and keep its rankings intact. What you can do is choose a WordPress theme that takes care of 90% of SEO part, and leaves only 10% for you. This will save your time, and at the same time ensure that you get desired outcomes in the long run.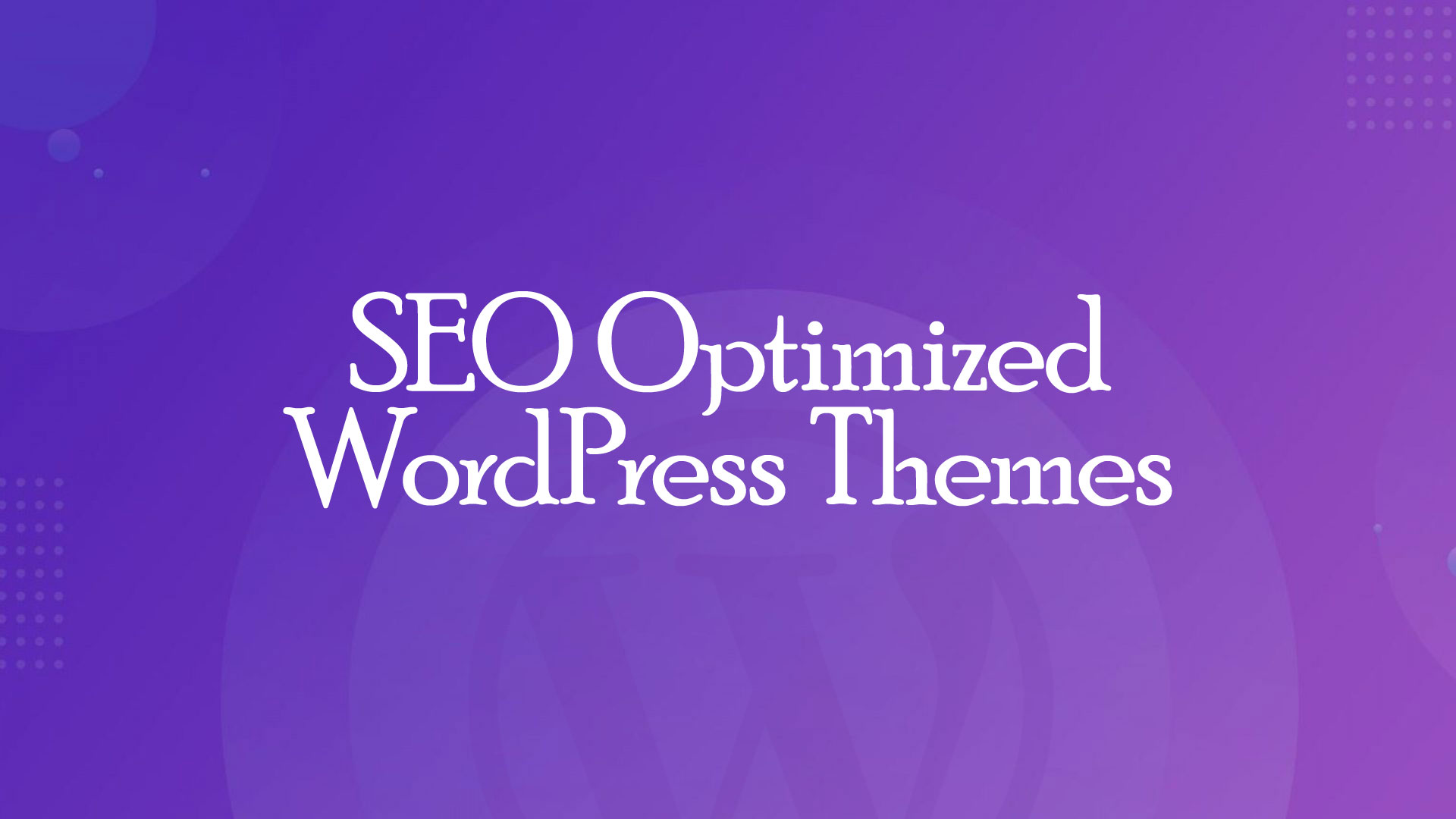 In this post, we have handpicked 25 finest search engine optimized WordPress themes that you can have a look at. Check them out and install any one on your website based on your requirements.
1. Clean
Clean is a multipurpose and minimalistic WordPress theme that is used by many professional bloggers across the globe. It's responsive to all devices, has over four different sliders, three unique homepage layouts, and comes with necessary SEO features to rank your site on the first page of Google and other search engines.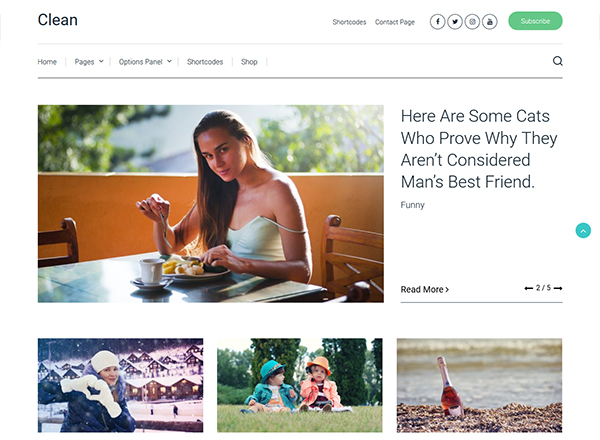 2. Viral
As the name suggests, Viral is a popular theme among site owners whose viral niche sites get an abundance of traffic from various social media platforms. In case you happen to have a similar site, take a shot at the Viral WordPress theme without any further delay. It's beautiful, SEO ready, lightweight, and fully responsive to work perfectly fine on various screen sizes.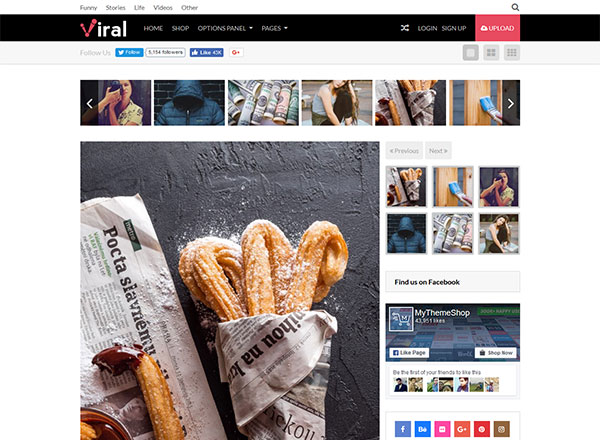 3. NewsPress
NewsPress is one of the most popular WordPress themes for breaking-news websites or newspaper sites. It's powered by clean HTML5 and CSS3 code, beautiful page and post layouts, flexible sidebars, dedicated space for ad units, custom background functionality, front page and full-width templates, featured sticky posts, and much more.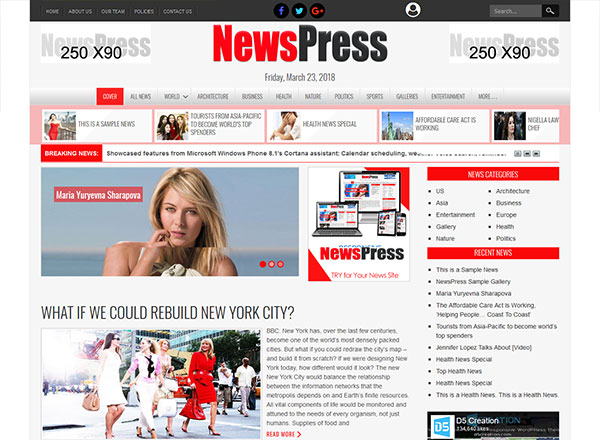 4. Petit
It's a fantastic theme to be used on food recipes or review websites. Petit comes with a substantial featured area and an eye-catching carousel to turn your homepage into a real traffic puller. Some other unique features of it include an extensive theme options panel, responsive layout, carousel & slideshow, recipe shortcodes, post ratings, and custom widgets.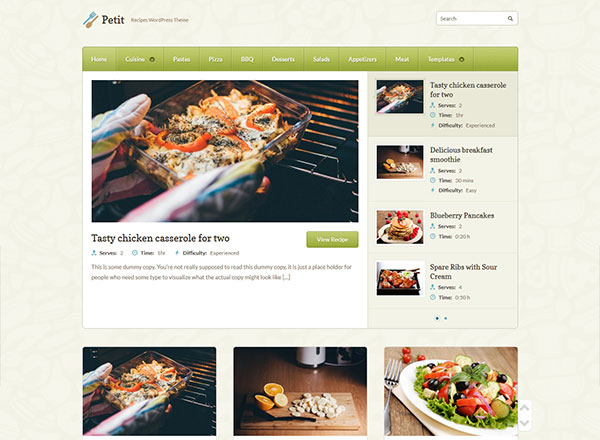 5. Ad-Sense
There is no doubt that Ad-Sense is one of the most SEO friendly themes you can ever find in the market. It not only gives your blog a refined touch but also ensures that its CTR and AdSense earnings increase by a significant margin. Ad-Sense comes with a unique ad management system and dedicated space for ad units. Also, it blocks the content on browsers having ad blockers activated so that you don't lose your share of revenue ever.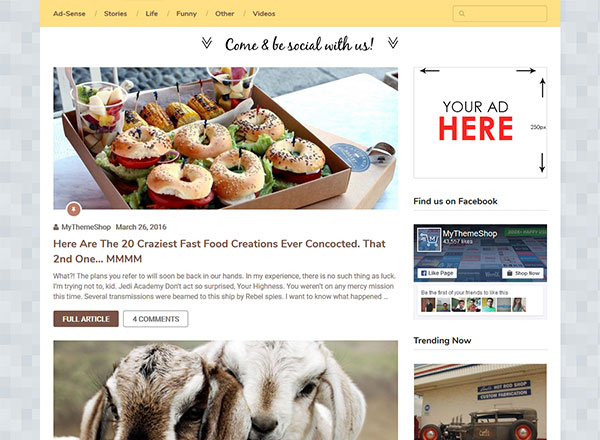 6. Tansy
Tansy is a highly responsive WordPress theme which comes with custom fonts and multiple color options. If you're looking forward to creating your online shop without affecting user experience, this is probably the best option to move ahead with. It's mobile-friendly, has an excellent featured slider, four different post formats, sticky navigation option, and much more.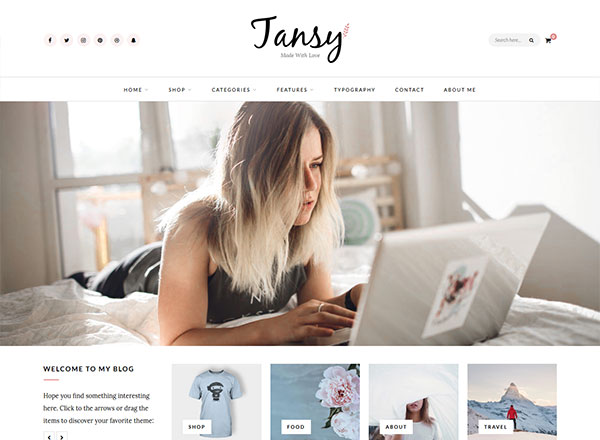 7. Newspaper Mag
There are not many WordPress themes built for news sites or newspaper blogs that can offer you more customization options and better search engine performance than Newspaper Mag. It's a lightweight theme with flexible sidebars, dedicated ad space, eye-catching homepage layout and multiple color schemes.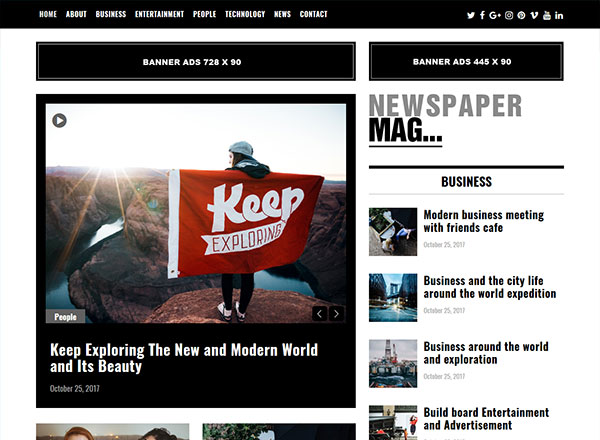 8. Paperbag
If your goal is to highlight your content and offer readers a memorable time whenever they visit your site, then give a try to Paperbag right away. It's a beautiful theme with a visually appealing homepage, mobile responsive layout, search engine optimized design and a host of other features to put your site on the first page of Google.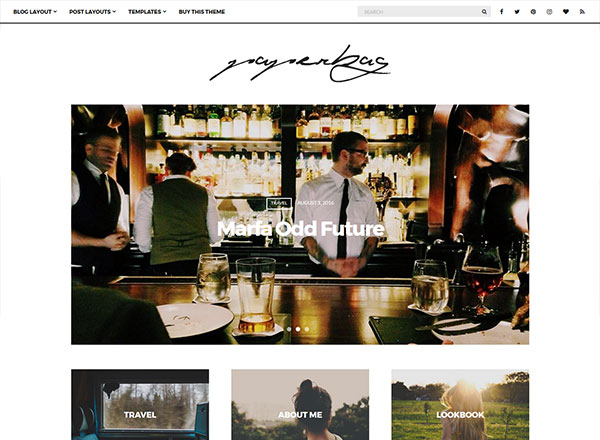 9. Solstice
It's a beautifully designed magazine and blog WordPress theme that can offer you many world-class features like a flexible slider, custom widgets, responsive design, eye-catching layouts, over 140 styling options, and clean code. It's best suited for personal, lifestyle, fashion, food and travel blogs.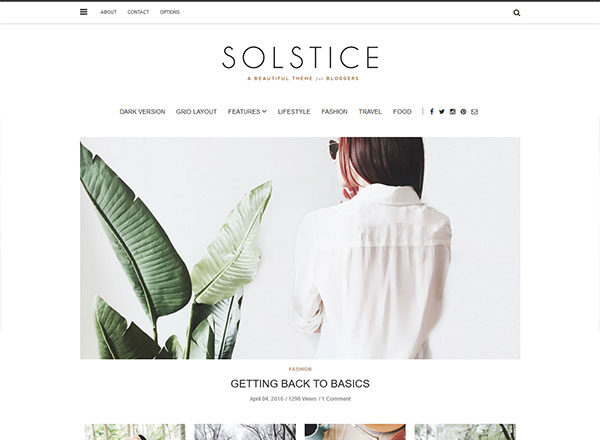 10. Feminine
If you're running a women-oriented blog, publishing news and product reviews that affect women's lives in any possible way, then Feminine is a perfect theme to move ahead with. It's lightweight, beautiful, SEO ready, and capable of performing well on smartphones. Try it once and experience the difference Feminine can make in your blogging journey.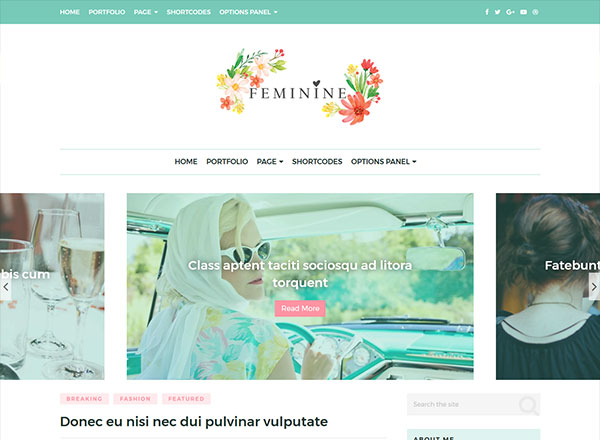 11. Featured
Featured is a dynamic magazine WordPress theme that can turn your website into a beautifully designed, highly customized digital publication. It not only revamps the visual appearance of the site but also ensures that it performs well in terms of search engine rankings. You can use the Featured theme on your tech, lifestyle, fashion, business, political or multi-niche blog and achieve desired results.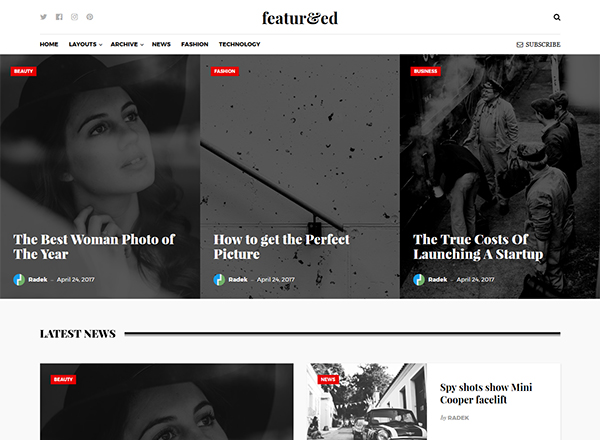 12. Mega
If you're into the agency business and running a photography agency site, then Mega is your best bet to create a fantastic online presence. It's powered by a minimal design and mobile-friendly layout. Some other notable features of Mega include custom Google fonts, sidebar widgets, clean HTML & CSS, search engine ready design, and multi-browser compatibility.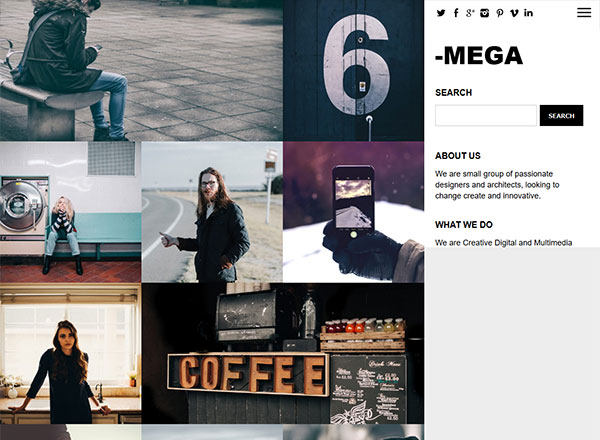 13. Amadeus Pro
Amadeus Pro is a premium WordPress blogging theme that comes packed with a clean & W3C validated code, multi-browser support, unlimited color choices, custom theme widgets, powerful options panel, and many other features needed to build a world-class site. With Amadeus Pro, you can divert users' attention towards content and offer them a memorable experience whenever they visit your site.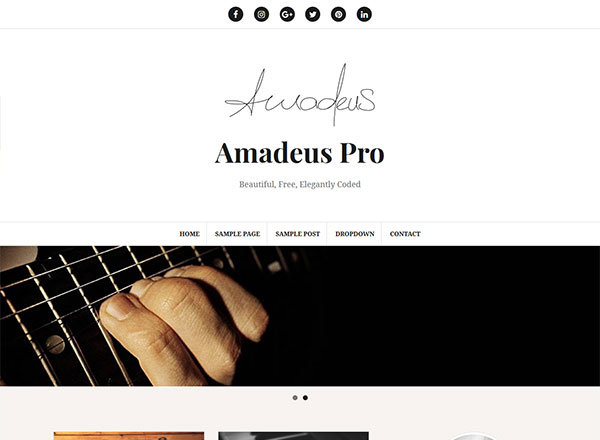 14. Simple Sense
Another handpicked theme for bloggers whose focus is on publishing high-quality content instead of putting fancy animations and graphics on their websites. This WordPress theme can be used across niches. It offers dedicated ad space, a robust ad management system and clutter-free design to increase your ad CTR and earnings.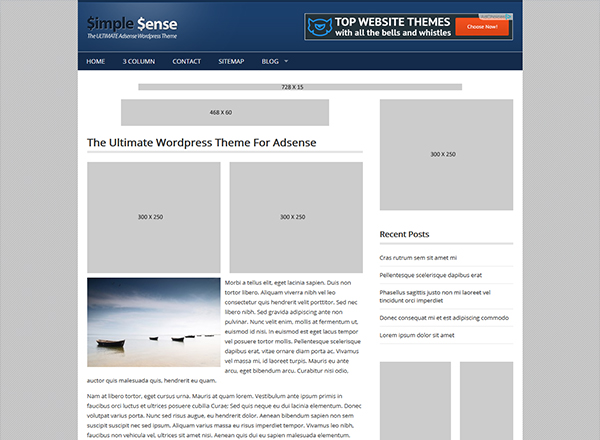 15. SocialNow
One of the best WordPress themes to be used on sites getting a lot of social traffic. SocialNow comes with an eye-catching homepage layout, custom-built page and post formats, lightweight design, dedicated social share buttons, SEO ready design and dozens of other features to help you make your next project highly successful.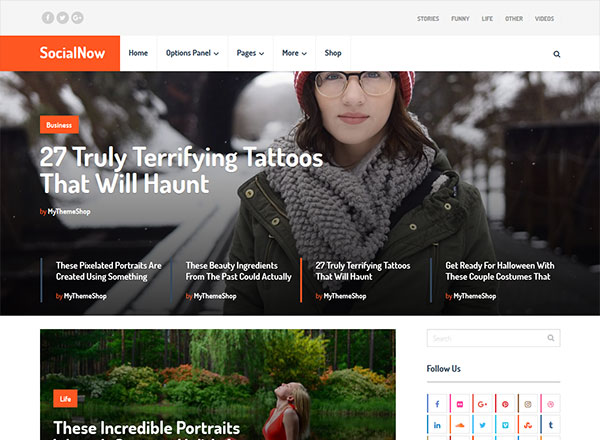 16. BlogSpring
If you're running a technology, business or digital marketing website and want to revamp its appearance from top to bottom using a fantastic WordPress theme, then go ahead and try BlogSpring without any further delay. It's alluring, lightweight, has flexible dual sidebars, superb color combinations, and stylish post layouts to increase user engagement on your site.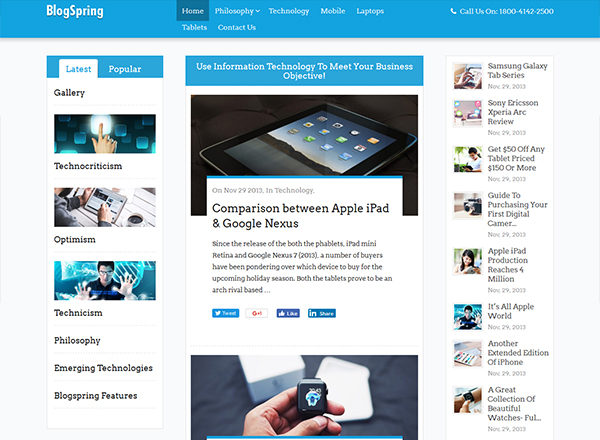 17. Foodica
As the name suggests, Foodica is a useful WordPress theme for food bloggers who wish to turn their blogs into professional digital ventures and achieve success. It allows you to publish high-quality food recipes & reviews and sell relevant products at the same time. Check Foodica, and you'll know the difference it can create.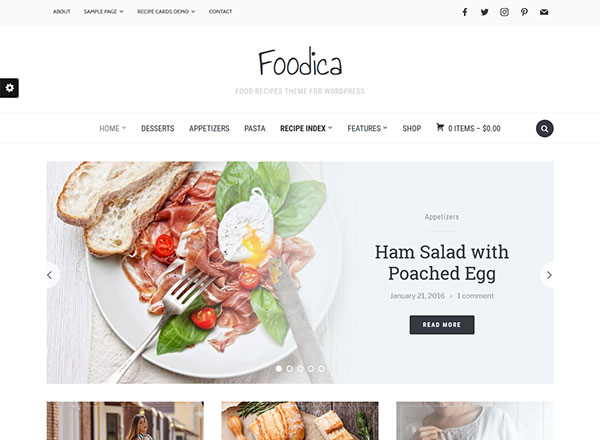 18. Elegant
Colossal slider homepage, appealing typography, lightweight design and mobile-friendly layout are some of the basic features you get with the Elegant WordPress theme. If your goal is to bring users' attention back to content by removing unnecessary graphics, then this theme is a perfect option to go ahead with.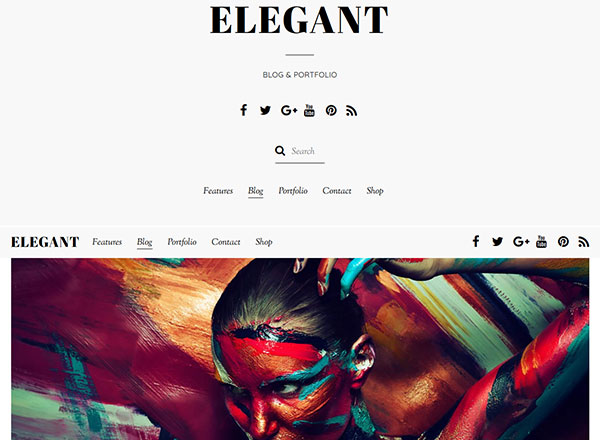 19. MH Cicero
MH Cicero is a flat styled WordPress theme, good enough to be used on your personal or business blog and turn it into a traffic puller. It's minimalistic, appealing, and loads pretty fast on mobile devices.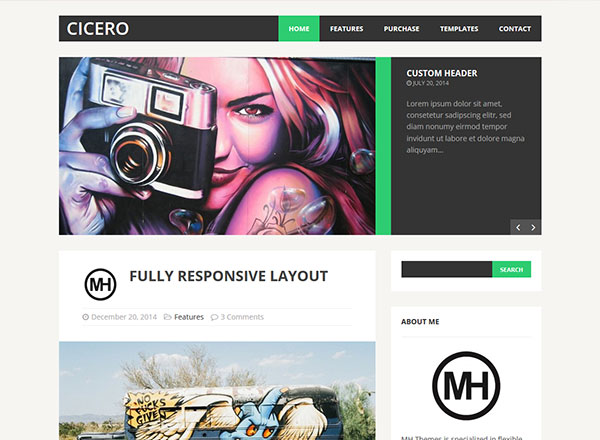 20. Writer
If you happen to be an author, writer, freelancer, editor or entrepreneur and wish to start a blog to share your journey and sell unique physical or digital goods alongside, then go for Writer theme without any second thought.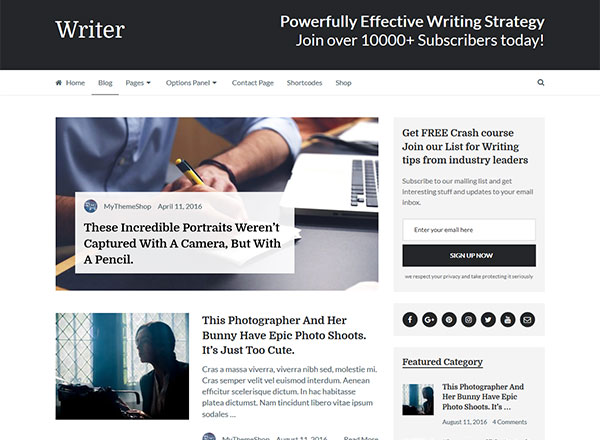 21. Esteem
It's one of those simple, clean, and flat-styled multipurpose WordPress themes that you can use for blogging, business, portfolio or any other type of digital publication as long as your goal is to achieve high search engine rankings without putting in too much effort.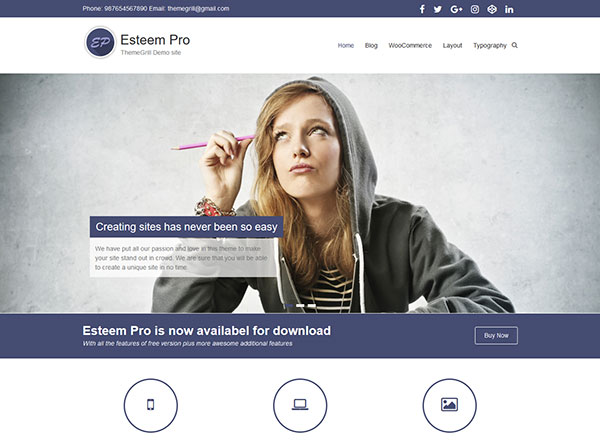 22. Optimize
A brilliant theme to help you build better and more responsive websites easily. It's SEO ready, fast and attractive. Use Optimize on your digital marketing or any other agency site and increase conversions by a significant margin.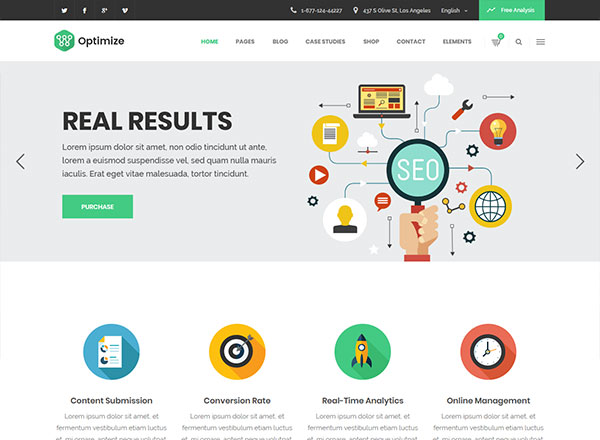 23. Newsider
Newsider is an excellent blog and magazine WordPress theme equipped with a slider homepage layout, shortcodes, mega menu, and all the necessary SEO features to put your content on the first page of different search engines. Use it on your tech, lifestyle, health, travel or any other blog and uplift the overall performance easily.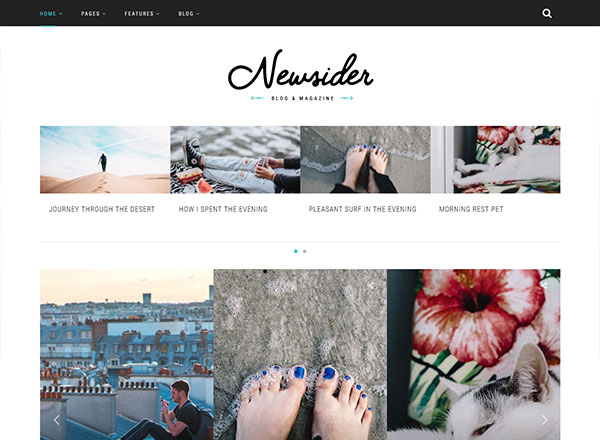 24. NewsToday
Running a news-oriented website can sometimes be a tedious task, especially when you're required to update it frequently, keep the loading time as low as possible, and look for a glitch-free design. Well, that's not the case anymore. Now with NewsToday's customized features and lightweight layout, you can smoothly run breaking news or newspaper sites and achieve positive outcomes without facing any trouble at all.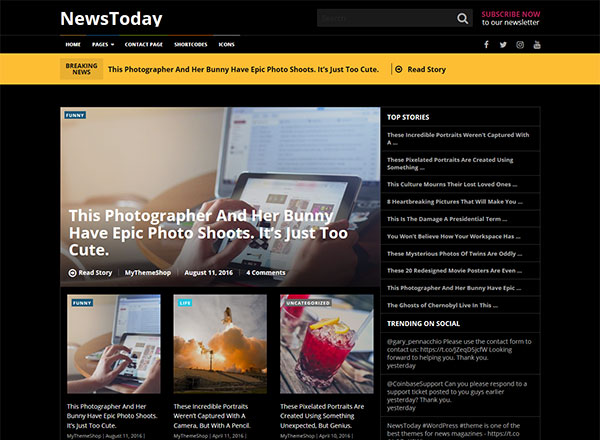 25. BloggingBox
Give your tech, health, digital marketing or business blog a perfect touch with BloggingBox theme. It's powered by a slider layout, perfectly located social share buttons, beautiful color scheme, and attractive pagination. BloggingBox will not only improve your site's appearance but also increase conversions over time.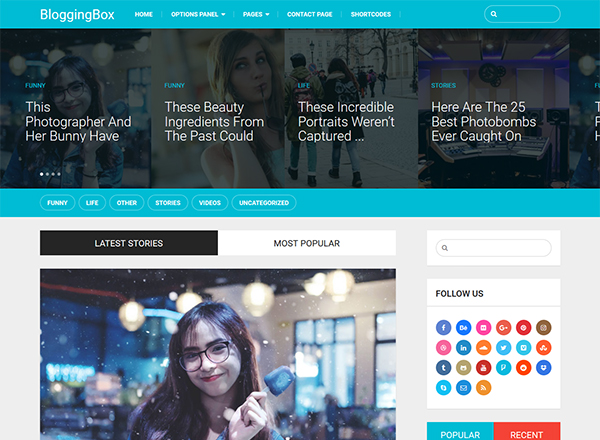 You can use any of these search engine optimized WordPress themes to skyrocket the rankings and increase organic traffic on your website.