What do you know about Mac cleaners? — 'Not much', is the reply you will usually get. Interestingly, most of the cleanup-related information you find is heavy 'danger and risk' centered. It only makes forming an objective opinion on the matter more difficult. But if that is all there is to it then cleaning software wouldn't be around anymore, right? Let's take a look at the bright side for a change, and dive into a piece of actually decent Mac maintenance software.
So how would you describe your perfect Mac cleaning app? Apparently, MacFly Pro has a fair chance of being exactly that. Read our full MacFly Pro review.
Meet-and-Greet: MacFly Pro
How do you picture a perfect cleaning app? Rich in features? Safe and quick? Free to use? Well, then, you'll be happy to learn that MacFly Pro is all of these.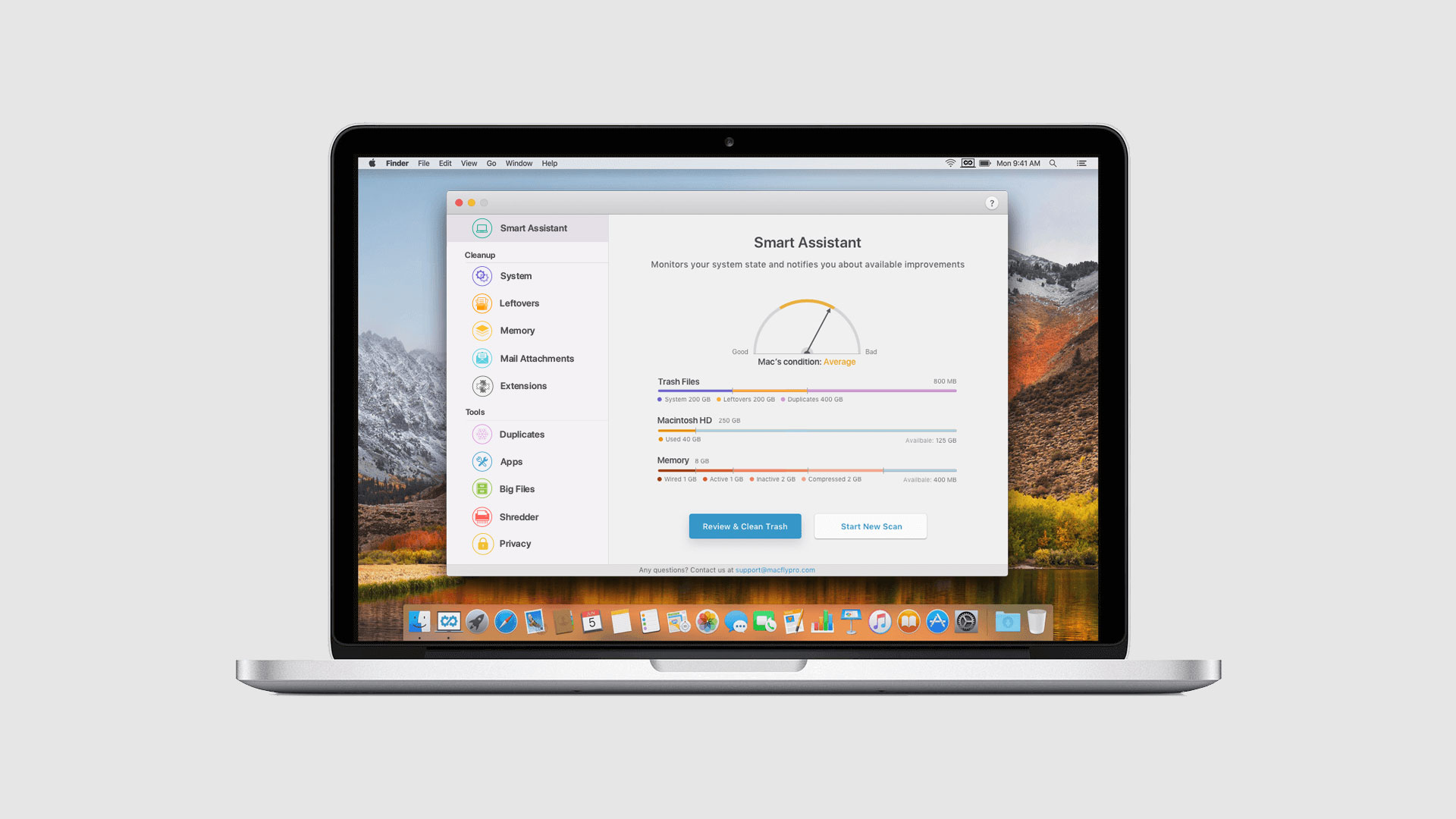 Meet MacFly Pro. The app launched in 2017 and immediately gained the attention from among other well-known cleanup utilities. Why does it get the spotlight now, you may ask? It's because starting off August 2018 MacFly Pro turned completely free to use which immediately made it an even more appealing piece of software you don't want to be missing out on. The design language is pretty simplistic, yet super simple to use due to its intuitive interface. No beating around the bush, just the buttons that do things you'd expect them to do. But the design is not its main attraction — it's the features.
Feature Breakdown
The first thing you'll see after downloading and installing MacFly Pro is the Smart Assistant welcome screen. It will display the current condition of your system allowing and let you clean things up in a few clicks. Alternatively, you can check out all of its features in the sidebar which are subdivided into the two main sections titled 'Cleanup' and 'Tools'. You have all the time you need to familiarize yourself with the interface and app's features.
The Cleanup section is where you'll find your optimization essentials: System, Leftovers, and Memory. These modules are what every maintenance app has at its core and, ultimately, these features clean out the majority of residual data generated over time. In the MacFly Pro case, the features work as expected and safely clear out unwanted files. The latest update also brought in Mail Attachments and Extensions modules. Both can help get a bit of extra space as well as remove unused browser extensions.
The Tools section is all about maximizing storage and keeping your private data secure. You find the suite of utilities to delete duplicates, apps, big files, shred sensible data and sweep the information kept by the browsers you use.
The Duplicates module will help you discover and purge file doubles. The special algorithm will analyze duplicate files not only by file names but also by size and remove them from your Mac's hard drive.
The Apps module is there to completely uninstall any app from your Mac along with all of the supplementary files which are typically left behind.
The Big Files section runs a scan on your Mac's storage mediums and structures large files based on recency of use or size. This allows to quickly select and get rid of chunks of irrelevant data.
Deleting data using Shredder ensures it cannot be recovered under any circumstance.
Pull up Privacy module to erase cookies, cache, and history across all browsers at once
Finally, MacFly Pro comes with a companion referred to as Smart Assistant. The main idea behind it is to let you take care of your business while Smart Assistant stays busy with ensuring temporary files on your Mac don't exceed acceptable limits. Once another cleanup is needed, you will receive a reminder with recommended files to remove. Simple.
Can Free Software Be Any Good?
On paper, it may sound too good to be true: a down-to-earth app that does not give false promises. But is there any trick to it?
Safety concerns are only natural, especially when you're considering using something which is, presumably, completely free. Contrary to popular belief, MacFly Pro showed to have no pitfalls. It will not blow you away by supernaturally expanding your MacBook SSD, but you can count on this app to save you time maintaining your Mac software in mint condition.
To do it justice, MacFly Pro is a trustworthy third-party app for Mac maintenance and cleaning. It comes packed with essential features used by the majority of Mac owners. The application doesn't contain any unnecessary features, only what most would call essential. Owing to the Smart Assistant, the user involvement can be kept to the minimum, however, the presence of the assistant is not enforced and you can take full control over individual features whenever you please. In general, you could pick on the little things, but the truth is, it is hard to ask for more from the app that's already this good at what it does.