Luminous NXG 1400 is the biggest solar inverter UPS which is capable of running the majority of the home appliances using solar power or using mains line. The biggest advantage of this inverter is it gives more priority to solar energy than mains energy.
If you are planning to make your own self managed on-grid solar system or complete off-grid solar setup, Luminous Solar NXG 1400 Inverter UPS is an ideal solution for you.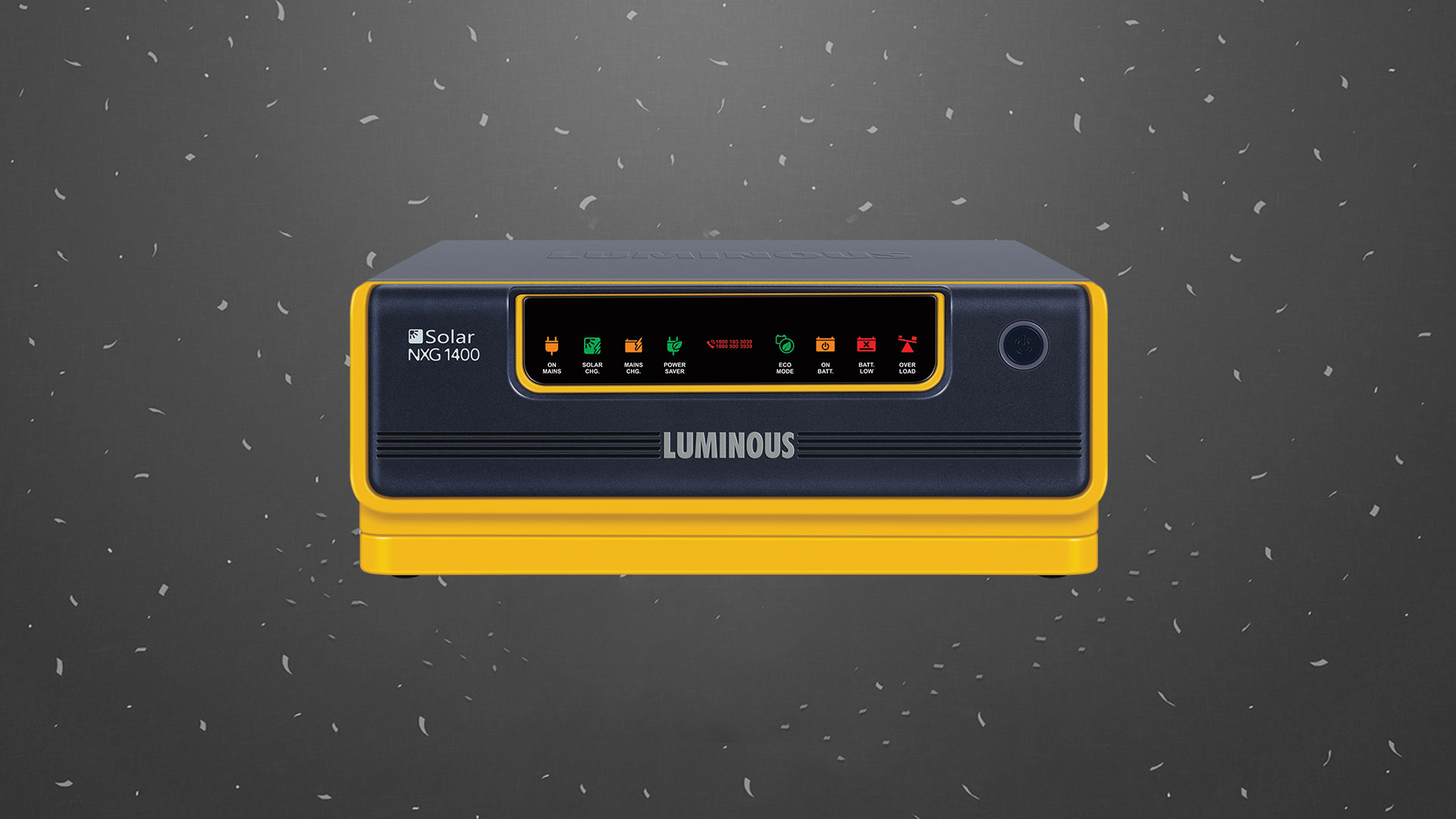 Let's see some of its technical details.
Rated AC Power: 1100 VA, which means you can achieve a maximum of 800 Watts load.
Maximum supported solar panel power: 1000 Watts (12V), suggested up to 800 Watts.
Inbuilt Charge Controller Rating: PWM 40AMP/12V, with 98% efficiency (fast-charging).
Minimum battery required: 1, more can be connected in Parallel for longer backups.
2 Years of the manufacturer's warranty.
Features of Luminous Solar NXG 1400
Luminous NXG models are known for reliability and they are all-rounder solutions for most of the basic home workloads. Before we know what we can run on it, let's see some features.
ISOT Technology
Luminous NXG UPS uses ISOT (Intelligent Solar Optimization Technique) technology, which means when the battery is fully charged, it supplies the power directly from solar panels and maximizes the solar energy usages while limits or cuts the mains energy consumption.
Based on our testing, we found up to 2.5 or 3 units saving every day and up to 2 units in the rainy or winter season. Consider installing solar panels in an open roof without any shadows.
i-Charge Technology
It is fast charging technology where the inverter uses 15 Amps instead of 10 Amps to charge the batteries if the mains power is available. By default, this feature is off to save the light bill, but you can turn this feature on if you are living in an area with major power outages.
ECO/UPS Mode
This is one of the most useful features for all the Luminous NXG models. By default, it is set to Eco mode, but you can turn on UPS mode for sensitive appliances like Desktop computers.
To switch between ECO/UPS mode, follow the red box-styled toggle switch. Press and hold it for 2 seconds to change the inverter modes. Note that UPS mode uses more battery power.
What it Can Run?
To be clear, it would be based on your setup with solar panels. Here I'm listing out my test configs.
Luminous NXG 1400 Solar UPS Inverter
Luminous 150 Ah Solar Battery
Solar Panels: 760 Watts (Almost maxed out)

Luminous (Polycrystalline) 165 Watts x 4 Panels = 660 Watts
Loom Solar (Monocrystalline) 50 Watts x 2 Panels = 100 Watts

6 SQ MM DC Wire (recommended up to 800 watts) for all the connections
So, I have a total of 760 Watts configuration to run my home with direct and indirect mains. Here direct mains are enabled for heavy appliances like 1HP Submersible Water Pump or similar heavy load. Where indirect mains line is the mains line which is connected to the solar inverter itself. Let's see what I'm running on the solar system completely.
10 Watts x 6 LED Bulb = 60 Watts (Used only in the night)
3 Watts x 20 LED Bulb = 60 Watts (Used only in the night)
50 Watts x 6 Ceiling Fans = 300 Watts (Only 2 or 3 fans are running at a time)
200 Watts x 1 Fridge = 200 Watts (Modern fridge even consumes less energy)
200 Watts x (TV, Speaker, and related used equipment)
100 Watts extra for all mobile, and laptop charging.
Practically we do not use all the appliances at once. Only 300-400 watts of power are utilized most of the time. Just in summer days, we use cooler to cool down the main hall.
So, we hardly touch 300-400 Watts usages at a time unless my mother uses her Mixer or similar appliances which are no more than 200-300 watts.
Since we fulfill our complete energy requirements from solar panel itself as we do not need anything more than 400 watts power in the day and 150-200 watts in the night.
I'm using this system for more than 6 months and everything is so smooth for us.
Here are some Pros and Cons which are required to read.
Pros of Luminous Solar NXG 1400 Inverter UPS:
Sine wave output delivers better performance and protection to the connected load.
A negligible amount of heat generation as compared to other Inverters.
Inbuilt PWM charge controller can run a load of up to five lights, five ceiling fans, one television, and one water cooler. Which makes it a decent UPS for the load as well.
Affordable and value for money.
Cons of Luminous Solar NXG 1400 Solar Inverter UPS:
I just found one thing which I hate but my family likes it, which is a sound-based notification. I just hate those long beep sounds when I turn it off.
Conclusion
Overall, this is really a decent Solar Inverter or UPS whatever you call it if you want to install one by yourself or with the help of a technician. If you have any questions regarding this solar inverter do let me know in the comment section below, I'll definitely try to help you.