To get more leads and conversions, your online and offline marketing campaigns should complement each other. If you've been running both campaigns somewhat independently, it's time to connect the two for optimum results.
Here are the most effective ways to blend your online and offline marketing to capture more leads and obtain a higher return on investment.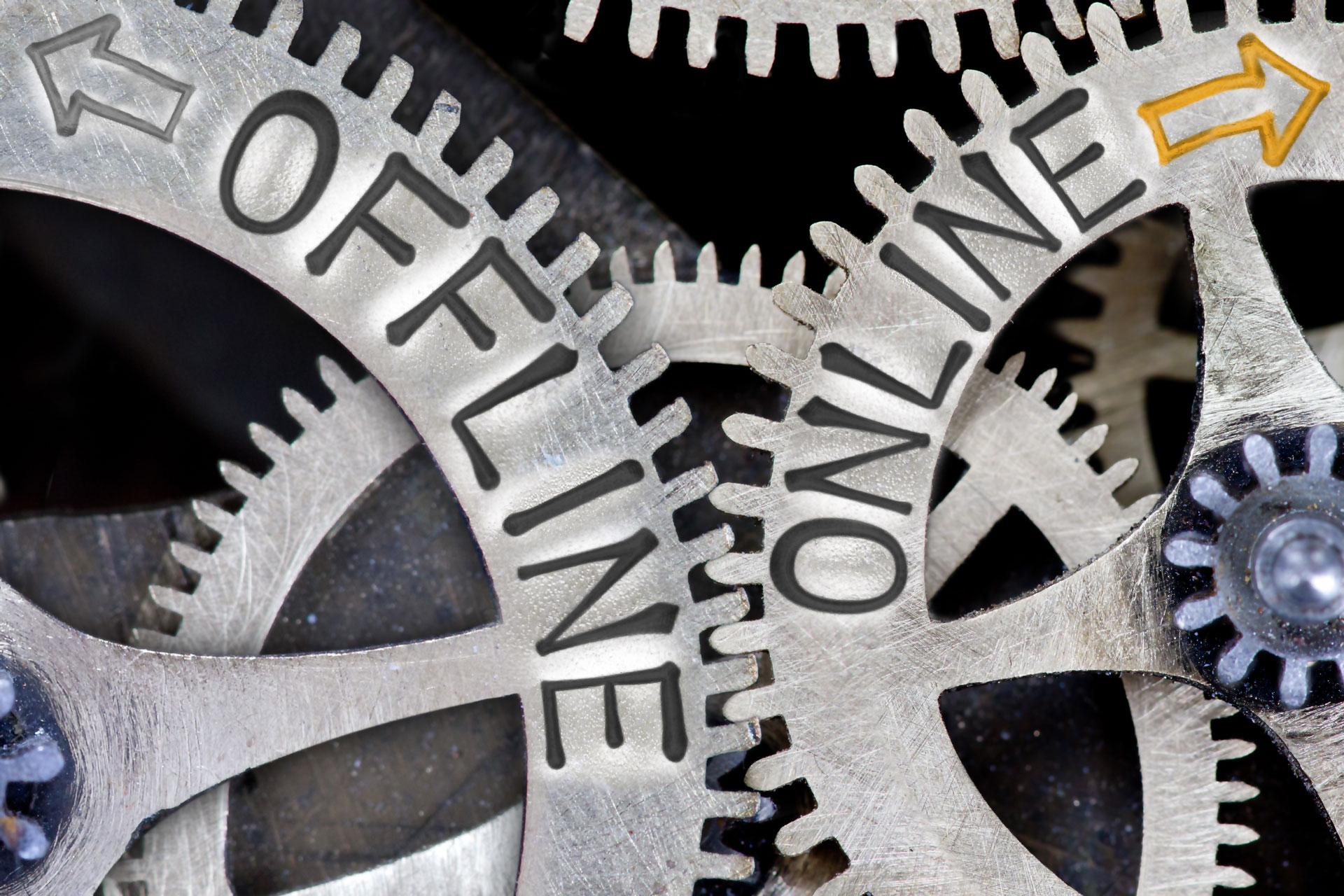 01. Start a campaign offline and complete it online.
In your next print magazine or marketing brochure, write an interesting print article and complete the story online. This will enable you to move your reader to a specific landing page on your website or to any of your social media pages. Just make sure you provide more product or service benefits and add a special call-to-action.
For instance, at the end of the print article, you can write, "to see the concluding part of this article visit www.yourcompanysite.com/landing-page", or "tweet your comments on this article using the # hashtag".
02. Use QR codes with personalized URLs.
One of the easiest ways to track your offline marketing campaign is to use QR codes (QRC) and personalized URLs (pURLs). Your prospects can scan the QRC on the go and then click on the URL to visit your website. You will have valuable data on the location of your consumers and the medium that is providing brand and marketing information to them. Today, you can print a QRC to advertise on virtually all types of materials including flyers, magazines, t-shirts, window displays, and many more.
03. Print your URL on physical materials.
While popular digital marketing platforms like search engine marketing and social media are very easy to use, they don't offer the same physical attraction, weight, texture, and other benefits offered by print advertising. That is why billions of physical coupons are being redeemed by consumers and millions of print catalogs are circulated annually. While direct mail marketing may have declined over the years, it is still profitable to print your URL with a compelling message on popular local print media and t-shirts to boost brand awareness and boost website traffic.
04. Place a digital opt-in on printed adverts.
Printed materials can provide unique engagement for your readers. Magazines, brochures, and catalogs provide a sensory experience that websites and mobile apps don't offer. The sharp, full-color images and the weight of your print materials make your business feel more real to your audience. That's why you need to use this medium to acquire new subscribers by providing an opt-in offer.
Give a special gift or coupon to any subscriber who decides to opt-in for your email newsletter and other digital marketing materials.
05. Add online calls to action to offline marketing materials.
On your company's brochure and print ads, provide an opportunity for your readers to go to a specific landing page. This page should provide more useful information about your product benefits and a contact form to obtain email addresses for follow-up. Whether you are doing B2C or B2B marketing, you can attract more subscribers with free content.
For B2C marketing, you may offer an e-book or special coupon with a discount for your products. To attract more opt-ins from a B2B audience, you can give a white paper or a case study that shows how your product or service has created outstanding results for your clients and how it can result for theirs too.
06. Print trackable phone numbers and UTM codes.
For each print material, set up phone numbers and UTM codes to track the effectiveness of your ads. You can track the number of times prospects call the number and visit the URL or landing page. Use strong calls-to-action and lead capture forms to get the name and email address of anyone who visits your landing page. Similarly, you can use a UTM code. UTM stands for urchin tracking module. A UTM code is a snippet of text that you can add to a URL. This makes it possible for Google Analytics software to help you monitor the campaign name, the source, and the medium used to access the URL.
07. Let online engagement results boost offline campaigns.
Let your success on social media guide your offline or print media campaign. If your fans love certain images, articles, or quotes on your fan page, you can transfer this to print and engage more readers offline. For example, you can use the most-liked image on your Facebook or Instagram account on your next print advert. This will build a coherent brand experience for your audience when they interact with your brand offline or online.
08. Get all your loyal social media fans to participate in offline creation.
When you are deciding on the best graphic to use in your future print campaign, get your social media followers involved. It's a simple and effective way to engage them. Post all the options online and ask them to vote or choose the image they like best.
As you do this, you will make them feel like an integral part of your brand or company. Subsequently, you will be sure that you are using the best graphics in print to grab the attention of readers.
09. Place all your offline marketing information on your online platforms.
Any time you host a marketing event or you set up a marketing campaign, ensure that you post it online. Your online audience can also help you to tell their friends on social media and bring them to your event. To do this effectively, you must post the date, time, and venue of the event several weeks ahead. If possible, set up a reminder with a notification in a mobile app. After the event, post pictures of the event on social media and your website. This will help to build more trust among your fans and promote your brand to a larger audience online.
10. Set up digital consumer feedback channels.
The easiest way to discover the best-performing marketing channels or ads is to set up a tracking or feedback system. Most online or digital marketing can be tracked with analytics. But tracking offline marketing is usually more difficult. To make it easy to get feedback for your offline marketing, you can ask your consumers to participate in contests, and surveys and provide rewards or incentives for doing so.
For instance, you can state that the first 100 people to respond by a certain date or time will receive a discount or branded gift.
11. Ask for selfies to generate content for online marketing.
You can use your direct mail campaign to invite your audience to share their photos on social media. When people respond with their selfies, it can serve as a form of endorsement that will increase brand awareness online. This works well in industries like higher education where clients have to submit printed documents or envelopes. For instance, students can post their selfies online with a particular hashtag when they are submitting their acceptance letters. You can also use this to promote an event. Let those who want to attend post a selfie with a hashtag like #attend to publicize the event.
12. Reward social media fans with offline promotional materials.
With the new technology available for personalized printing, you can advertise your brand with various physical products. Print marketing does not apply to paper alone. You may print your URL, social media links, and brand name on various low-cost items and give them to your fans. Examples of such items include – pens, bags, water bottles, wristbands, and shirts. Give them out to subscribers and people who participate in surveys, contests, and quizzes.
These strategies can help you to mix print and digital marketing for outstanding results.
When you are planning for your next advertising or marketing campaign, use them to capture more leads, get more subscribers and boost your conversions.