Multipurpose WordPress are always an excellent choice while launching a new Website and turns out to be a significant investment because of their concept; to serve many purposes. They mostly are power packed with social media integration, eCommerce support & SEO optimized. Furthermore, they enhance the functionalities of the site with beautiful designs & flexible layouts. You can use them for publishing your blog or magazines, portfolios, to open an e-store or establish an online presence. If you are looking for one such versatile WordPress theme for your next venture, take a look at the following best Multipurpose WordPress themes from our collection. We have listed out some of the Best Responsive Premium WordPress Themes which you can use for setting up websites for different purposes.
Schema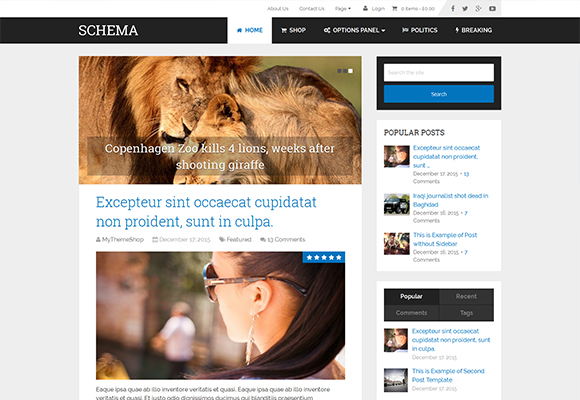 Apart from featuring rich snippets that increase traffic from search engines, this theme has all the premium goodness of MyThemeShop features that will help you to stay on top of the competition in any niche you wish to use it for. It is one of the best Magazine Style WordPress Themes which is heavily used by the Viral Websites.
Saha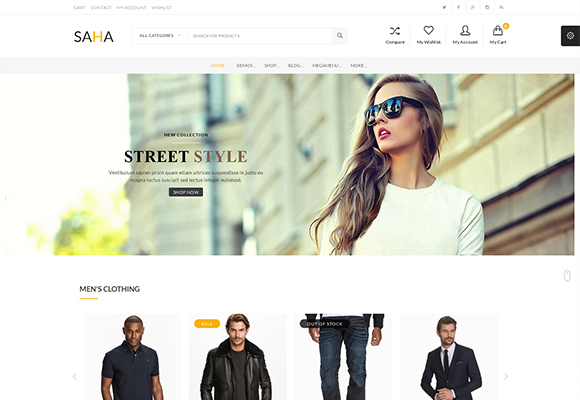 Promote your products in style with this theme's selection of layouts and also ensure that you make some greens while at it with the theme's modern design and eCommerce support.
Clock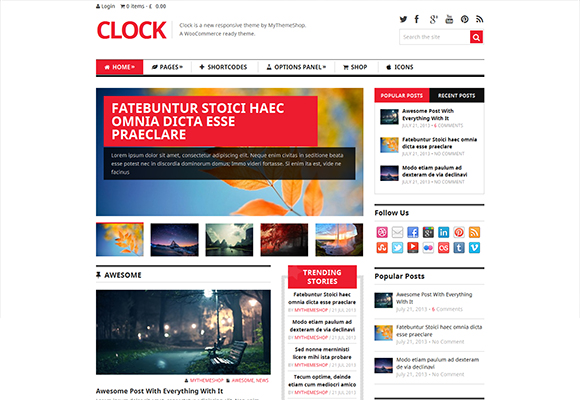 Clock is more of a content-oriented theme that mainly focuses on highlighting your content with its excellent design and crisp typography. But you can use this one either as an additional blog to drive more traffic from search engines or just use it to create an online store.
Gather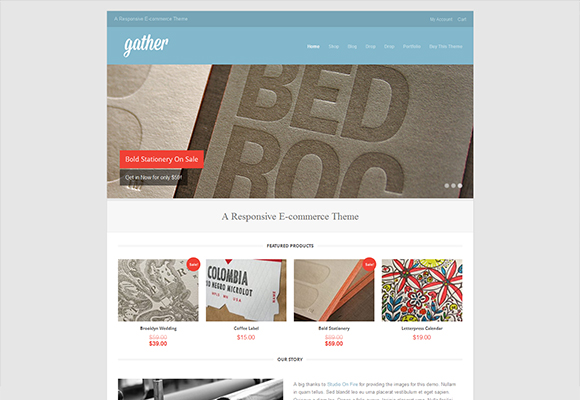 This WooCommerce ready theme allows you to set up and runs online store within no time and while you do so, rest assured that your website will look fantastic on any device, thanks to its completely responsive design. Besides, with this theme, you can sell your products, show off your work, and maintain a blog, all at the same time and all in style.
FireUp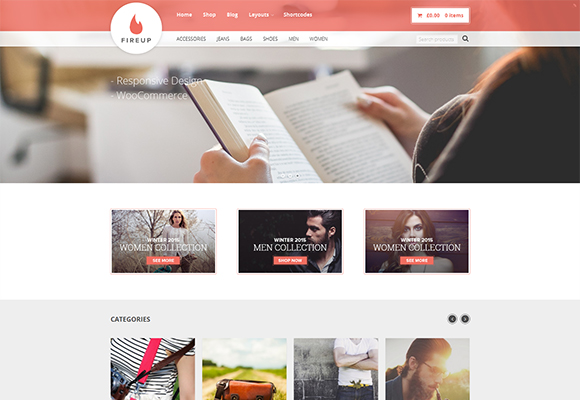 Ready for anything you throw at it, this one is particularly suitable for eCommerce websites, but that is sure not the only thing you can use this multi-purpose theme for.
Nota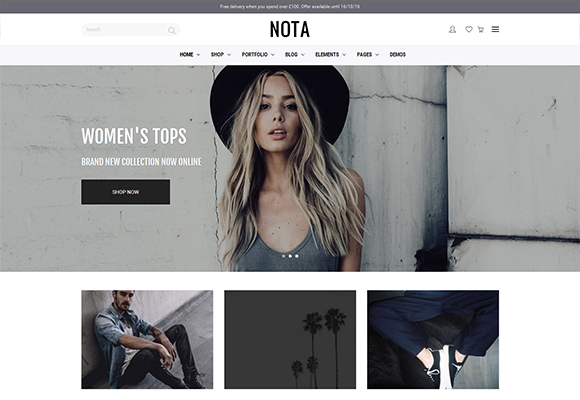 Another quality theme that does not only shop friendly but also search engine optimized so that you ensure that people come ushering to your website from search engine results page. Needless to say that the theme is pixel perfect and fully responsive in addition to having full support for most popular plugins including WooCommerce and Yoast SEO.
Grayson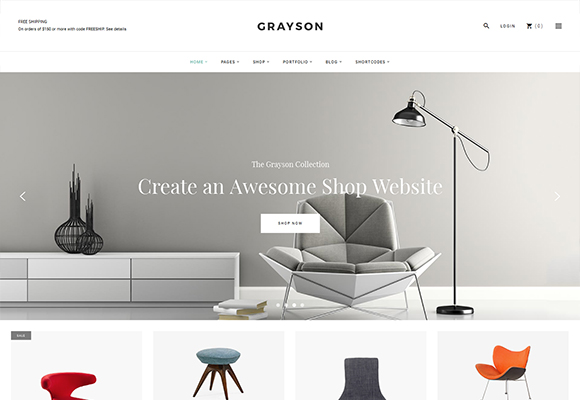 Some of the features of this theme that deserve mentioning and serious lauding include header styles, full responsiveness, retina readiness, powerful page builder, flexible layouts, quick view, stylish hovers. Apart from these, the other ones include dropdown cart, user login widget, sign-up form, header top bar, side area, order tracking, product zoom, effects and animations and much more which make the shopping experience a lot more enjoyable.
PointPro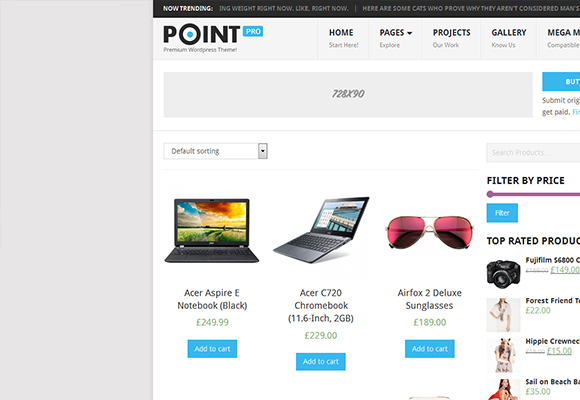 Compete and even beat top players in your niche with this theme that is not only elegant but also full of features and functions that will give you an edge over your competition.
Shopy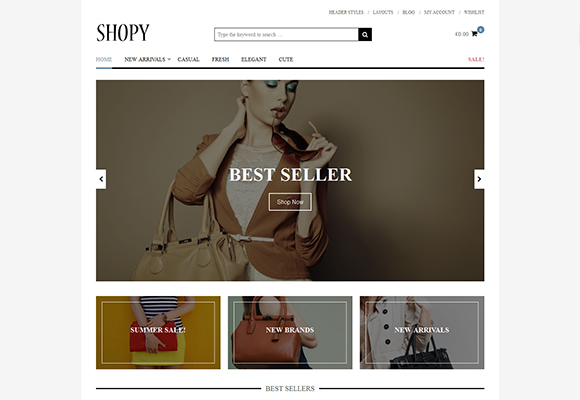 Shopy does exactly what it is expected to do, that is, help you sell products online with ease and simplicity.
Gear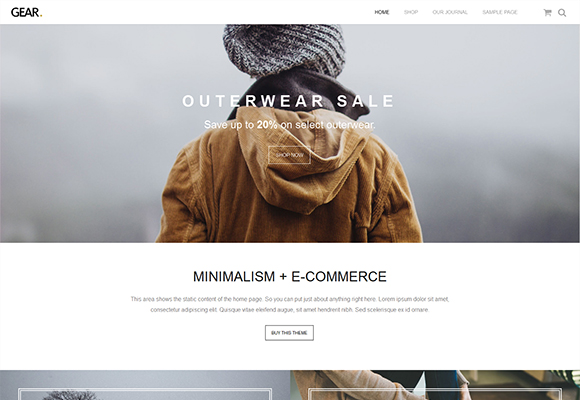 Supporting WooCommerce, this one makes sure you sell products like never before and while you do so your website will look sleek and minimalistic, thus attracting more visitors to your site.