If you take yourself seriously as a gamer, then a gaming keyboard is a necessity. Why? Simple! You can't afford to lose valuable time reloading your gun when you are taking heavy fire approaching the enemy barracks due to poor response time caused by your default keyboard.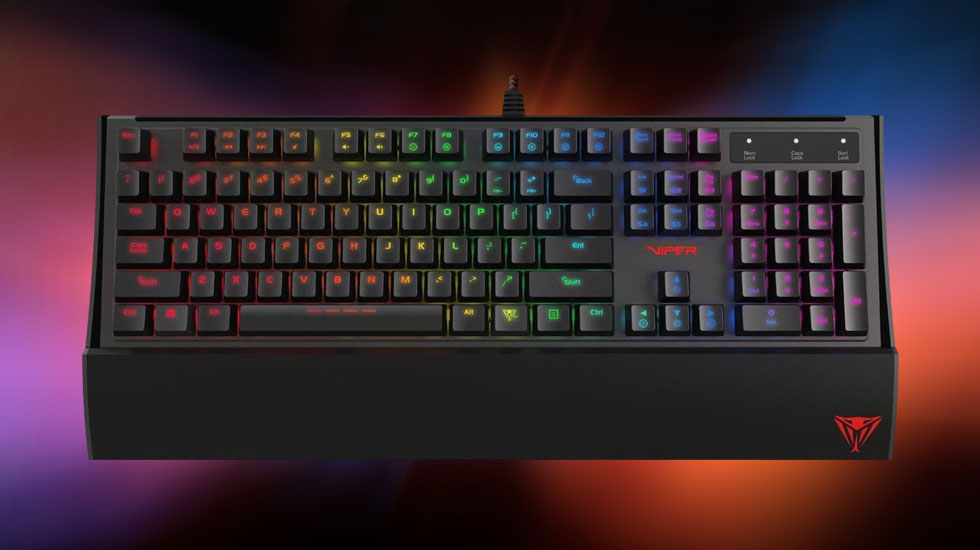 Offering high durability and impeccable performance, some of the keyboards in this segment are worth every penny spent. However, there are certain factors that set apart one gaming keyboard from another. The two most significant factors that need to be taken into consideration before buying a gaming keyboard are:
Key Switches– Keyboards for gaming ought to have the best of activation force that can handle tactile response with ease.
Layout style– The advent of mechanical keyboards has given room for macro command customization which can significantly fulfill sophisticated functions like tracking statistics and communication via text or audio during game play.
Here's a take on the top three gaming keyboards essentially crafted for gamers.
#1. Viper V760 Mechanical Gaming Keyboard
The Viper V760 is certainly no ordinary offering as a lot of attention has been put into its manufacturing which makes it stand apart from the crowd. Exclusively designed for enthusiastic gamers all around, the Viper V760 Mechanical Gaming Keyboard comes equipped with a total of 104 programmable macro keys.
The manufacturer has also employed more than 16 million colors that work to illuminate individual keys. There is nothing new or uncommon to witness RGB LED on a gaming keyboard.
However, what makes Viper V760 series unique is the striking layout with five distinguished profiles that also holds seven different modes of lighting. Besides, one also gets to see the smart culmination of LED charged intensity buttons, dedicated keys for speed selection, button reserved for gaming and a reset button which are build right into the very basic structure.
Additionally, the Viper V760 offers tactical response for each key which can boost your gaming experience. It also holds six different multimedia keys along with a 104-key rollover that also promises anti-ghosting. In other words, every single key thus pressed will beckon the action desired which is a boon to a gamer while is playing against a live opponent.
The build quality is excellent with aluminum built chassis that is coupled with a sturdy detachable palm rest (magnetic) for comfort during long hours spent in front of your PC. Viper V760 is backed by a full-on service warranty for two years and is compatible with Windows and Mac OS.
Buy from Amazon
#2. Razer BlackWidow X Chroma
The Razer Black Widow X Chroma has mechanical switches designed in a manner that promises supreme speed and utmost responsiveness–ideal components for a fast-paced gaming experience. With an actuation point of 1.9mm, it would be extremely easy for any user to register a single click as compared to the conventional keys on any standard gaming keyboard.
The very unit in discussion claimed by the manufacturing company has a key span of 80 million keystrokes, which is heavier than most other conventional keyboards in the world of gaming. The very basic framework of the keyboard is made of steel and the keys are left exposed.
One of the fascinating elements of this very gaming keyboard is the lighting. The LEDs (RGB) that have been used can produce more than 16.7 million shades, where each effect can be customized through software.
The key features of Razer Black Widow X Chroma are being controlled by the Synapse 2.0.  The keyboard menu works its way to facilitate profile selection and save every single key assignment as made by the user.
Accordingly, there is also a lighting tab that can be used to link each profile. The fine tuning can be well achieved through the Chroma Configurator wherein one can choose several different patterns such as ripple, breathe, and reactive effects. One can also highlight the keys like WASD, function and number keys by making use of shortcuts.
Buy from Amazon
#3. HAVIT Rainbow Backlit Wired Gaming Keyboard with Mouse
Are you a plug-n-play enthusiast with zero tolerance for hefty installation? If the answer to the question is a "Yes", then the HAVIT Rainbow Backlit Wired Gaming Keyboard with Mouse is the ultimate choice you can have.
It features a superior build quality, a range of backlit colored lights and ultra-easy movement making this a best seller among gamers. The keyboard comes bundled with a mouse which is super convenient to use. It offers an excellent grip and the very pattern on it offers a smooth feeling.
However, its working mechanism is like a regular mouse. Besides, it also has two dedicated buttons targeted towards speed gaming. The mouse is also supplied with a braided cord which prevents it from getting tangled. The laser sensors of the mouse account for accurate and smooth usage which ensures gameplay is effortless for users.
The first thing noticeable about the HAVIT Rainbow keyboard is its endurance. They keys are extremely easy to be used whereas the presence of the colors adds to the design making gaming a fun affair for everyone.
On the left side of the keyboard, there are a set of additional keys that facilitate quick access to the home screen, e-mail, and other instant access buttons on your PC; this ensures that you don't have to miss out on important tasks or notifications while you are gaming.  It features rubber feet for stability offering good support if you want to place the keyboard facing upwards.
With nineteen different anti-ghosting keys that are preprogrammed for user convenience, you don't have to worry about missing any keystroke.
Buy from Amazon
#4. Redragon S101 Vajra USB Gaming Keyboard with Centrophorus USB Gaming Mouse
Globally, Redragon is a popular industry among gaming fanatics for their peripherals. With over 20 years of experience in making mice and keyboards for the hardcore gaming professionals, you can expect innovation with the assurance of high quality. The S101 Vajra is a budget option for new gamers looking to upgrade their response and accuracy timings.
The striking feature about the keyboard is the fact that the WSAD and the arrow keys are in a nice red texture to establish the directional keys which are entirely interchangeable. Among the total 104 standard keys, there are 12 keys provided for function and the keyboard is quite resistant to water.
The laser-engraved keys come with a 5 foot USB cable made of braided fiber for superior durability. While numbered keypads are usually not a strong choice for gaming keyboards, the inclusion of one allows gamers the choice of mapping additional hotkeys and can alternatively be used as typist keyboard.
Probably the best part of the keyboard is it comes packed along with a Redragon mouse with no additional cost. The mouse offers effortless glide control and can be paired with the keyboard to provide the gamer with an unmatched gaming experience. Both units are compatible with older Windows such as XP all the way to the latest – Windows 10.
Buy from Amazon
#5. Corsair K70
If a tank and a highly advanced robot were to fuse – the result would be the Corsair K70. The durability due to its aircraft-grade aluminum frame allows you to drop it as many times as you want and still pick it up without a scratch to show. The keyboard is inbuilt with Cherry MX keys, which are known to be the gaming industry's top pick as far as responsive keyboards are concerned.
The soft wrist pad is detachable and can be removed to maximize space constraints. The keyboard comes with Corsair Utility Engine (CUE) support that allows a user to completely take charge of its unlimited customizable options. The USB pass-through port allows you to plug-n-play within seconds minimizing any downtime.
For gamers looking for intensive response times in FPS or MOBA games where every second count, this keyboard is designed for you due to its textured and contoured keycaps providing effortless grip. It's 1.2mm actuation keys allows you to tackle ultra-fast scenarios with a simple key stroke.
The anti-ghosting technology allows you to take control of absolute precision to counter the effects of shaky mouse angles during a game that rely on speed to win.
Multi-color key backlighting allows the gamer in you to play even during the dark without the need of lights to intrude on your loved ones. Dedicated multimedia controls allow you to adjust your audio during a game without losing a single frame of game time.
Buy from Amazon
Conclusion
Remember that standard typing keyboards aren't proficient for gamers due to a lack of useful features. The modern gaming keyboards specialize in blending the very best of customization supported by modern ergonomics.
Altogether, the game action is never compromised, which in turn, works its way to elevating the overall gaming experience with speed, precision, and accuracy of each keystroke.