Getting a gaming computer that has top-notch graphics isn't all that it takes to enjoy your gaming session. You also need a gaming desk to help you set up your gaming space in the most appropriate way to optimize your gaming experience. A gaming computer desk not only improves your game but also helps in cable management and it provides easy accessibility.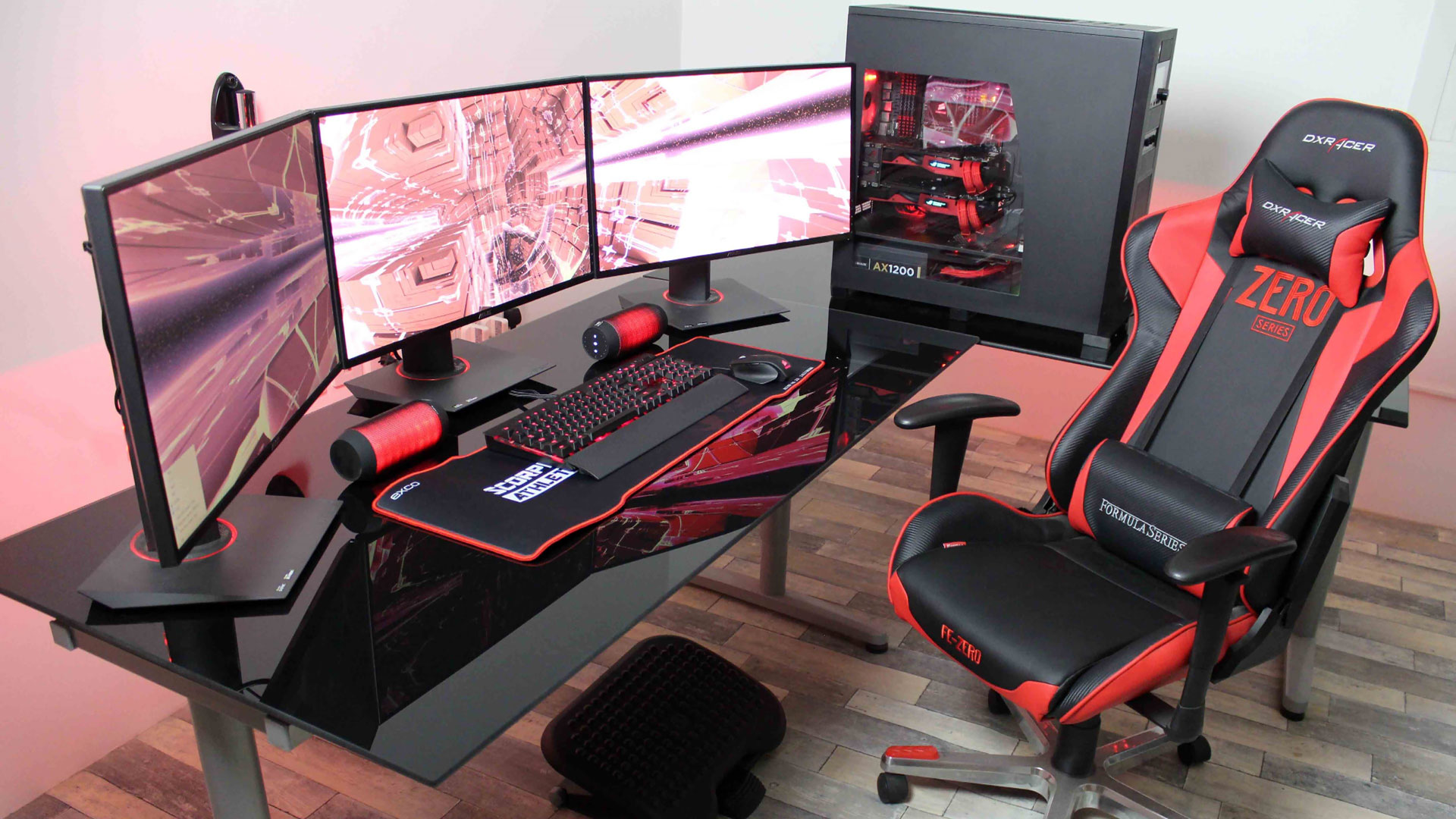 Here are the top 10 gaming computer desks that you could get yourself.
#01. Altra Dakota L-Shaped Desk
The Altra Dakota is an awesome gaming computer desk that features an L shape, allowing it to fit in any free corner of your home or office. It has two bookshelves to enable you to fit different items. It also has an impressive design with a weight capacity of 100 pounds plus a large surface area.
#02. DXRacer GD/1000/NE Newedge Edition Gaming Desktop
The DXRacer is designed with a steel rod frame to enhance its stability even when you are engaged in an intense gaming session. It also doesn't have any underside compartment, enabling you to move your legs easily. It is built to enhance your gaming comfort.
#03. Atlantic Gaming Desk
If you are looking for a gaming desk that has its cable management system, then you might want to consider this desk. It features sturdy steel construction and also has a stand that can fit a monitor of up to 27 inches. It also includes a lot of storage compartments to help you keep multiple devices.
#04. Atlantic 33950212 Gaming Desk Pro
Another impressive gaming desk is the 33950212. It is a quality desk that is guaranteed to impress any hardcore gamer. It has an elevated shelf that enables it to hold a monitor of up to 32 inches. It could also accommodate speakers of up to 6 × 5 inches. It also has numerous storage compartments to store numerous devices. It also has a stylish design, and it's very durable.
#05. Walker Edison Soreno 3-Piece Corner Desk
This is an L-shaped gaming desk that is made of tempered safety glass. Its construction gives it a stylish appearance, and it is very strong. Additionally, it has a steel frame that has a powder coat finish. It also has a sliding keyboard tray as well as a CPU stand.
#06. Arozzi Arena Gaming Desk – Black
You could also consider this high-quality desk, which has a microfiber surface mouse pad that is waterproof. It also features a top with a large surface area to let you place your monitor and other devices. Furthermore, its portability is a non-issue because it can be divided into three sections. However, this desk is a bit pricey.
#07. Z-Line Designs Cyrus Workstation
This is yet another excellent gaming desk that is designed with a clear tempered glass plus a black border to enhance its safety. It is also designed with a keyboard tray,and it has ample space to let you place a mousepad and mouse. It also has an impressive construction design,and it is very strong.
#08. Tribesigns Modern Simple Style Computer Desk
If you are not so much into complexdesigns, then you might consider this gaming desk. It has a wide top to allow you to fit your gaming computer as well as give you enough space to move your arms around. Besides, it features excellent quality,and it is economically priced.
#09. Origami RDE-01 Computer Desk
Gaming demands comfort, and this desk delivers that at an affordable price. It also has a sturdy design, and it has a flat fold, making it easy to assemble and re-assemble. It is a feature that enhances its portability. It also has a great height and an ample surface area.
#10. Halter ED-600 Preassembled Height Adjustable Desk
This is a compact gaming desk that is very easy to assemble. It is built with gas spring technology to enhance its stability. You can as well use it as a sitting or a standing desk. And it has a stylish and lightweight design.
Conclusion
If you are looking to optimize your gaming experience, it would be wise to get yourself a good gaming computer desk.